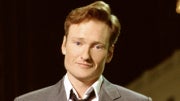 So far, it's been a jubilant final march for Late Night, and we can expect more fan-friendly shenanigans (Carrie Fisher and the Masturbating Bear running away together) tonight and the rest of the week.
WATCH
Late Night with Conan O'Brien [12:35 AM, NBC] - Moving is always tough, but for the generation born from 1975-1985, Conan's move to 11:35 PM is a truly significant change in the TV landscape. Many of us were too young to see a lot of Letterman at 12:35 AM (or his morning show), so our reference on the current Late Show is not strong enough to lament that it has become less funny or weird. We will have that ability with Conan, and hopefully we will not have to deploy it. Nathan Lane is on tonight's episode, but you should expect a lot more than just witty banter and a musical number. Even if you never understood the humor or didn't stay up that late, at least watch it online. Late night shows aren't ever going to be on DVD or preserved online the way Seinfeld or even Reba are, so this is pretty much your last chance to see a master of the form.
Important Things With Demetri Martin [10:30 PM, Comedy] - Power is tonight's topic. The ratings for the first installment were huge (as Comedy Central original sketch shows go) last week, and while there's definitely a ceiling on the number of people who can enjoy this brand of broad but intelligent comedy, there should be a lot more folks tuning in to see what the guy with the horn rimmed glasses and the messenger bag was talking about in the lunchroom.
TiVo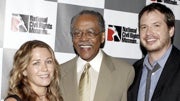 The Witness: From the Balcony of Room 306 [8 PM, HBO2] - This Oscar-nominated short (about 30 minutes) explores the last afternoon with Dr. Martin Luther King, as told by Rev. Samuel "Billy" Kyles, the only other person on the balcony of the Lorraine Motel in Memphis at the time of the assassination on April 4, 1968. Considering that most people never see the nominated documentary shorts (not really their fault as exhibitions are hard to come by), it's enriching to watch filmmakers who truly toil in obscurity and have to get by on the message of their work and strength of their talent. Who does that anymore?
KILL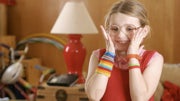 Little Miss Perfect [10 PM, WE] - Great title. This reality children pageant series premieres hot on the heels of TLC's Toddlers and Tiaras. While Toddlers and Tiaras showcases a bunch of girls as they prepare for the pageant, Little Miss Perfect follows two families each week as they prep their cash calves for the "Little Miss Perfect" pageant. Tonight's episode centers on 9-year-old BrandiJean and 8-year-old Ashley, the reigning Little Miss Citrus. We're not objecting to the idea of little girl pageants, mind you, just the shows about them.
High School Reunion [10 PM, TVLand] - The second season of this torturous reality series starts tonight with 15 of Chandler, Arizona's class of 1988 reuniting at a Hawaiian estate. TVLand promises that the cast includes the homecoming queen, ugly duckling, class clown and the outcast, but as we learned last season, The Breakfast Club this is not. Even if your standards are slightly lower, and you'd settle for the reunion chemistry in The Big Chill's dinner-cleanup-dance sequence, you'll be greatly disappointed.