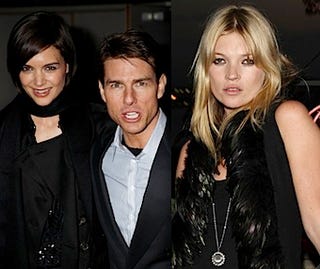 Kate Moss is not happy: Do Tom Cruise and Katie Holmes, fashion nobodies, know how many fashion gods they pissed off by cutting the line at a fashion ball?
The line-cutting happened at last year's Met Costume Institute Ball, and the bitter memory is still fresh in supermodel Moss's mind. She relived the trauma at the end of a lengthy interview in this week's New York:
And the thing is, we stood in line for an hour or something to say hello to the meet and greet in the receiving line. Donatella is in front of us, and Francesco Clemente was behind us with his wife, who I knew from back in the day. And we're going, I can't believe this. You can't smoke. You can't have a drink.

When we got to the receiving line, this lady came up and said, "We're sorry, they've all gone to their tables." We were like, What? Tom and Katie just walked right up to the front, and we were like, Who the fuck are they? They're not even in fashion!

Who the fuck are they, indeed.
Moss will have everyone know she was personally invited to host this year's ball by Anna Wintour and Marc Jacobs, so she won't have to worry about missing out on the meet-n-greet, thanks to Hollywood carpetbaggers or whatever.
But let this be a lesson to all you movie industry A-listers during Fashion Week: You can spend your celebrity cachet in the fashion world, but the conversation costs will probably come back to bite you.
[via Digital Spy]