S
On Twitter, no brush with celebrity can go unremarked. Guess which member of the Twitterati slept with George Clooney and which one held hands at Ryan Seacrest's workplace!

S
British tabloid reporter Simon Crisp inadvertently became the story.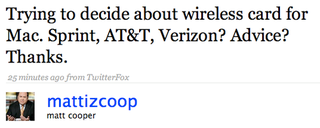 S
Talking Points Memo blogger Matt Cooper thought about his equipment.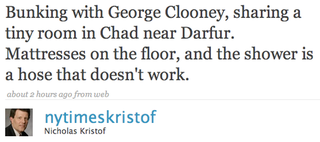 S
New York Times columnist Nicholas Kristof lived out every straight woman's fantasy.



S
Patty Rodriguez, a writer for Ryan Seacrest, probed workplace boundaries.



S
KNBC TV personality Shira Lazar did nothing to improve the reputation of TV personalities.

Anyone else's tweets we should keep an eye on? Send us more Twitter usernames, please.