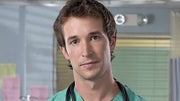 The Grey's Privates crossover continues tonight, but we're excited for the ER-The Librarian crossover as swashbuckling historical mysteries heat up County General Hospital. Wait, Noah Wyle is reprising his Dr. Carter character? Same dif.
WATCH
ER [10 PM, NBC] - This is more of a nostalgia pick than anything as the days wind down for those brave Chicago ER doctors. There was a moment in many of our lives when Thursday night was an automatic three hour block of NBC, with ER topping us off after four solid or visionary (Seinfeld, certain Friends episodes) half-hour comedies (a single tear for the "Must See TV" era). But with personnel changes and the darkening of the national mood, a serious, steadicam-heavy medical show no longer seemed like the best choice on our Thursday nights. Wyle reprises his longtime Dr. Carter role tonight (and for a few more episodes) and we are excited to see his simple, empathic humanity back on the show. In the early days of Clooney making dreamy eyes, Eriq La Salle taking everything too seriously and Anthony Edwards' character constantly distracted by the problems of others, Wyle was the young buck with a lot to learn. Clooney is probably coming back, too, so keep your TiVos peeled.
TiVo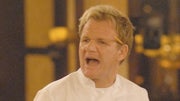 Hell's Kitchen [9 PM, Fox] - Don't get us wrong, we like Top Chef a lot, but Gawker has that show on lockdown, so we'll settle for the rest of the cooking competition universe. At times Jerry Springer Show (lots of bleeps) and at other times a source for culinary knowledge (how to prepare a scallop), this show is all that is good and bad about shows about cooking. Watching people cook is inherently boring - thus the need for unnecessary insert shots, cheesy music and major cleavage on shows like Giada De Laurentiis's, for example - but watching people have to manipulate heat and knives under time pressure is great fun, and with tonight's meat challenge involving large sides of beef, we'll get heaping helpings of both.
Being Erica [10 PM, SOAPnet] - There's nothing like a good Canadian produced dramedy series to get the blood flowing, especially when one of the co-stars is Wonderfalls hunk Tyrone Leitso. The premise of the series requires a bit of hand-holding: 32-year-old Erica (Erin Karpluk) suffers an early midlife crisis and is prescribed by her mysterious therapist to travel back in time and right past wrongs. So, it's like Samantha Who? but with time travel. We can hang.
KILL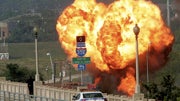 Destroyed in Seconds [9 PM, Discovery] - There was a moment where we liked these clip shows - especially Whacked Out Sports - but with the internet our main source of daily entertainment, watching short but spectacular clips on television has lost its novelty. We've said this many times, but if something is awesome, it will bubble up from the internet. For better or worse, our attention span has been shortened to the point where we can't tolerate Discovery running nine replays of the same grainy explosion footage. Tonight's episodes features a race car and a tornado burning and destroying, respectively, in seconds.