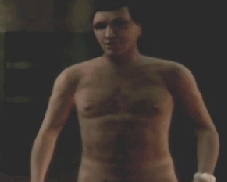 · Can't wait for Watchmen to glimpse some computer-generated wang? Then get a load of GTA4: Lost And Damned Mr. Stubbs. [via 1Up]
· If you meant to see Fireproof, Kirk Cameron's $33.5 million-earning firemen-and-faith movie, but never got around to it, here's some highlights, beginning with an uplifting scene in which Kirk finally tells off his nag of a wife.
· People talked to most adorable Top Chef contestant of all time Fabio Viviani, who was [SPOILER ALERT!] eliminated on last night's episode. They do an admirable job of preserving his broken English. Sniff. We love you, Fabio.
· J.D. Fortune, winner of Rock Star: INXS, toured with the band for 23 months, then was unceremoniously fired at a Hong Kong airport. He's now living in a car, which if you aren't aware, is one step away from homeless.
· The Oscars secret is out, and it's three little words that will blow your minds: Hugh. Jackman. Blingees.
· American Idol's soulful griever Danny Gokey beat out Tatiana, the most loathed Idol contestant in history, to advance to the top 12. But watch out Gokey: Adam Lambert is coming, and Cher's "Believe" isn't the only trick up his sleeve.