S
Not a good day for the Twitterati! Dan Abrams found himself stalked by a coworker. Perma-perky PR person Brooke Hammerling got bummed out. And an underling of Tina Brown faced up to an unwelcome chore:

S
Daily Beast West Coast editor Tom Tapp did his laundry at 11 a.m.



S
Reporter-pimping rapscallion Dan Abrams felt vaguely annoyed at Rachel Sklar. (We've all been there, Dan. She's everywhere!)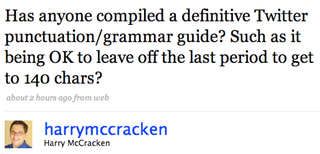 S
Tech blogger Harry McCracken overthought Twitter.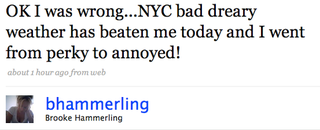 S
Snacky tech superflack Brooke Hammerling let the weather get her down.



S
Farm and Dairy editor Susan Crowell had a cow over milking online users. Ba-dum-bum!

Anyone else's tweets we should keep an eye on? Send us more Twitter usernames, please — or email us your favorite tweets.