S
Credulous bloggers think Twitter will make more money than newspapers! That's a low bar. In the meantime, the media's Twitter addicts from the New York Times to ReadWriteWeb prove how value-free the status-updating service is: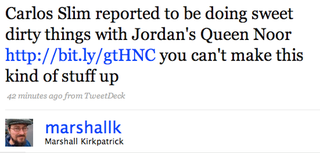 S
ReadWriteWeb tech blogger
Marshall Kirkpatrick
got really excited
about a
Liberian paper's summary
of an
English translation by AOL
of a Colombian magazine's weeks-old story about a romance between Mexican billionaire Carlos Slim Helù and Jordan's Queen Noor, which was
shot down by Slim's spokesman
the day it appeared in Mexico City tabloids.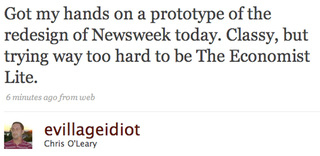 S
East Village Idiot
blogger
Chris O'Leary
was unimpressed with Newsweek's redesign
.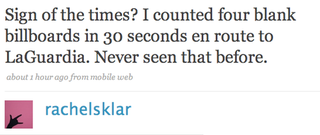 S
Rachel Sklar
,
Dan Abrams
's gal Friday,
fled an advertising-free New York
.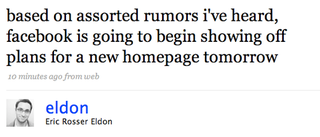 S
VentureBeat blogger
Eric Eldon
heard that Facebook might change its homepage at some point in the future
.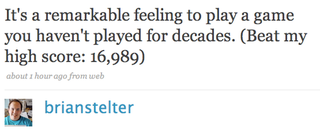 S
New York Times
please-don't-call-him-a-blogger
Brian Stelter
played videogames in the middle of a workday
.
Anyone else's tweets we should keep an eye on?
Send us more Twitter usernames
, please — or
email us your favorite tweets
.