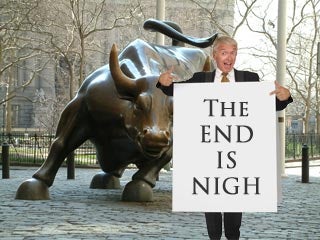 Look, the nimble television networks are seamlessly transitioning into recession-era programming! Instead of sitcoms about upwardly mobile whites, it's sitcoms about downwardly mobile whites. With product placement for the poors!
ABC is leading the way with two new pilots for the upcoming post-boom season:
One is an untitled project starring Kelsey Grammer, who plays a Wall Street millionaire unhorsed by the collapsing economy and forced into a "Mr. Mom"-like role at home with the family he hardly ever saw. The other is "Canned," a pilot about several younger Gen X friends fired from their lofty perch at an investment bank.
They certainly project a certain sheen of realism, no? And since product placement is increasingly non-negotiable for TV shows in these twilight years of the Pepsi Generation, ABC has hit upon an ingenious solution: Product placement of cheap shit. They're actually mocking Starbucks in the first episode, thereby ensuring a future episode revolving around characters visiting Wal-Mart to purchase Folgers and try on Hanes brand underwear. Hanes: comfort and durability for your poor balls.
Television is finally for the people, again.
[Ad Age; Pic via. "Sitcommunism" tag stolen from commenter Uncle_Billy_Slumming]