S
Twitteronia is a scary place to be. A Googler got violent, an NBC TV host swore, and we frightened a top AP editor — while Michelle Malkin had a breakdown. Today's twittiest tweets:

S
Del.icio.us founder Joshua Schachter, now a Google engineer, contemplated violence. (There's some kind of thing about guns going around on Twitter! We don't get it, but we sure hope that's what Schachter's referring to!)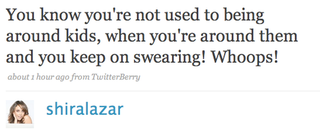 S
KNBC TV personality Shira Lazar corrupted the youth of America.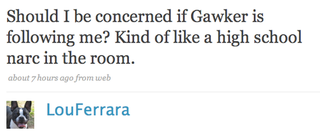 S
Associated Press managing editor Lou Ferrara expressed an entirely legitimate concern.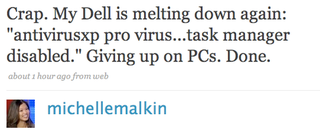 S
Bizarro right-wing conservatrix Michelle Malkin made it official: She is not PC.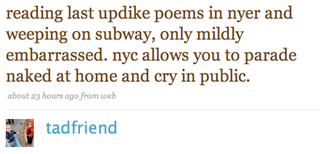 S
New Yorker writer Tad Friend cried in public.

See something worth noting on Twitter? Please email us your favorite tweets — or send us more Twitter usernames.