S
You know the media have fallen when former Star editorial director Bonnie Fuller can't get a car and driver. Also, another writer dude is newly unemployed! More vital information from the Twittersphere today: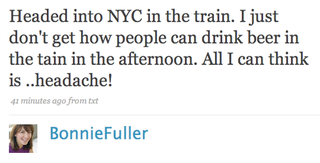 S
Fomer Town Car passenger Bonnie Fuller rode the train.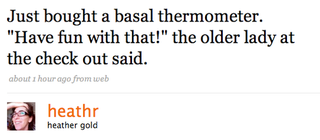 S
Web comedian (and future mom?) Heather Gold made a purchase handy for tracking ovulation cycles.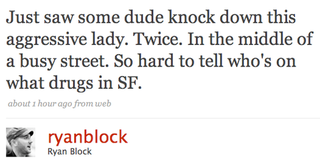 S
GDGT cofounder Ryan Block witnessed a street brawl.



S
Ex-Access Hollywood animator Lee Stranahan chased the latest media trend.



S
Guardian writer Jemima Kiss contemplated reader feedback.

Did you witness the media elite tweet something indiscreet? Please email us your favorite tweets — or send us more Twitter usernames.