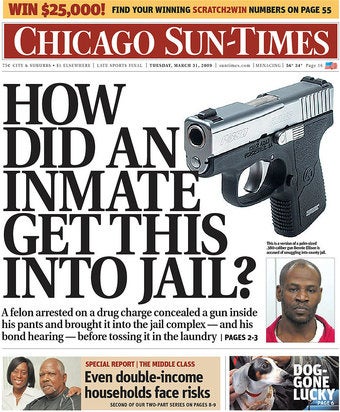 It's just the thing to do these days: the Sun-Times Media Group, which owns the Chicago Sun-Times and dozens of smaller community papers, filed for bankruptcy this morning. Thanks, Conrad Black!
The company has one significant creditor — the Internal Revenue Service. The IRS has said Sun-Times Media Group owes up to $608 million in back taxes and penalties from past business practices by its former controlling owner, Conrad Black, now imprisoned for theft from corporate coffers.
This is a bitter pill: while just about every other flailing print media company drowned under bank debt, the Sun-Times is screwed mainly because of the corrupt actions of its old boss, Baron Black of Crossharbour, currently ensconced in a leisurely prison environment. Of course, it doesn't help that the Sun-Times is a newspaper company. Hard to get out from any kind of debt by selling newspapers.
The Sun-Times plans to keep publishing, reorganize, and (try to) sell itself off to be able to pay back the IRS. But hey, at least they won the Chicago newspaper wars! The Chicago Tribune's parent company went bankrupt almost four months ago.
[Sun-Times]