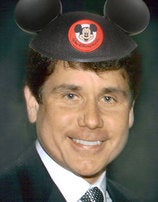 A grand jury has indicted Rod Blagojevich, the disgraced, impeached, and irrelevant former Illinois governor, on 16 felony charges. So what is the poet-politician doing? Going to Disney World, of course!
Accused of trying to sell the vacant Senate seat of Barack Obama to the highest bidder, Blagojevich got caught before he sealed the deal. Some accuse prosecutors of rushing to nail him before he'd actually taken a bribe, rather than just artfully suggesting he might be open to the idea. The indictment also accuses him of a "wide-ranging scheme to deprive the people of Illinois of honest government" — which seems like a moot point now that he's got little more to do than vacation at theme parks. This is an anticlimactic end to his sorry political career; the indictment and subsequent trial are a small postscript.
No wonder that Blagojevich is out of town. There's no spotlight to be hogged, no cameras in his face, no microphones waiting to capture his latest recitation of lines of Kipling. He managed to get a book deal. By the time it comes out, will anyone remember anything besides his funny name and funnier mane?