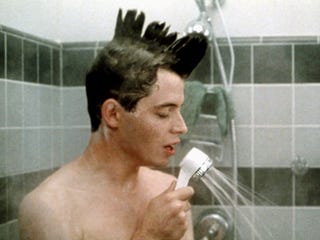 Matthew Broderick returns to Broadway right now, while you'll have to wait til the fall for Laurie Metcalf. Some shows open well, others don't, and a production of the Tempest in Chicago earns raves.
Rock of Ages opened on Broadway and was fun, if a bit silly.
The Humana Arts Festival at the Actors' Theatre of Louisville got underway. The most interesting show (for me)? Actress Zoe Kazan's (Three Sisters) play Absalom. Didn't know she wrote.
After a few missteps (Adrift in Macao, anyone?) arch black comedian Christopher Durang is back in good graces with Why Torture Is Wrong, and the People Who Love Them at the Public.
Meanwhile Brunch: The Musical, about struggling actors working as waiters on the Upper East Side sounds positively dreadful, both in concept and performance. Best line of the review? "These mostly unlikable characters want audiences to know that they hate 'crying kids, blue hairs and strollers,' as one waiter mentions. And they want 20 percent tips." Ha.
Matthew Broderick began previews of The Philanthropist at the Roundabout on Friday night.
Speaking of the Roundabout, the terrific Julie White (a Tony winner for Little Dog Laughed) will star in that company's New York premiere of busy, busy lady Theresa Rebeck's play The Understudy. And the indispensable Laurie Metcalf is Broadway bound twice in the coming year, once quite literally. She's landed lead roles in revivals of both Brighton Beach Memoirs and Broadway Bound. Brighton will likely bow in October, with Bound following in December.
Legendary bitch, but brilliant performer, Anna Deavere Smith will bring her Let Me Down Easy to the off-Broadway stage this fall. The show premiered at the ART in Boston this year.
Also off-B'way, the great Sherie Rene Scott began previews for Everyday Rapture a new musical by the Thoroughly Modern Millie duo and directed by Michael Mayer.
In regional news, I really want to go see The Tempest at the Steppenwolf in Chicago. Tina Landau's production sounds spectacular. I'm also sort of curious, if in an apprehensive way, about Chalk Rep's Family Planning, a two-parter that takes place in actual houses. Could be Fefu, could be just awkward. The LA Times liked it.