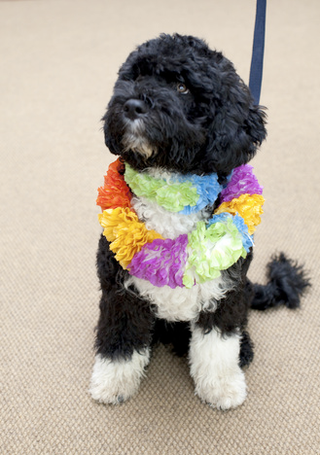 Barack Obama's daughters have named the first dog Bo, after a cousin's cat and in honor of Michelle Obama's grandfather, who was nicknamed Diddley. Also, intrigue surrounds the leak if his identity!
TMZ first broke details about the dog, who was then known as Charlie, at 7:45 on Friday night (the linked story is a version updated on Saturday morning). On Saturday morning, an anonymous web site called firstdogcharlie.com published a photo of Charlie/Bo wearing a Hawaiian lei, apparently taken during a secret visit to the White House several weeks ago. According to the Washington Post, which published a rundown of the leak this morning, the White House is calling the firstdogcharlie.com picture "bogus"—but it's abundantly clear from looking at both pictures that it's genuine, especially considering the fact that, when it was published yesterday, no one knew that Charlie/Bo was in fact wearing a lei during his first meeting with the Obamas.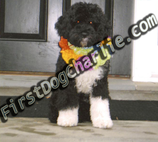 Why is the Post so interested in how the story got out? Because it was supposed to be theirs!
Bo's story starts sometime around the Ides of March. Word on the street was that the White House was going to plant a vegetable garden. Health gurus had been pushing the Obamas to plant seedlings for months, hoping it would set a good example for children everywhere.

A Washington Post food reporter was making calls, probing, pushing. But the White House was mum. Word filtered out that the exclusive had been promised to the New York Times. But the White House offered The Post, the newspaper that cracked Watergate, a mollifier: A puppy exclusive.

These kinds of arrangements get made all the time in Washington. For a while, the puppy deal seemed to be holding up.
And then the internet ruined everything! The Post whiffs on the chronology of the story, blaming firstdogcharlie.com for breaking it yesterday morning when TMZ actually broke it on Friday night. But either way, the paper is pissed that it screwed the pooch on its exclusive.
And yes, you read that right: Washington Post and New York Times reporters who cover the White House are horsetrading stories about gardens and puppies.
So who is firstdogcharlie.com? Our guess is a dog groomer called in to clean up the first pup before the initial visit to the White House. Or perhaps Charlie/Bo's original owners, eager to dispel the perception that they abandoned their dog and returned him to the breeder—in an "interview" with the dog, the site claims that his "owners at the time knew what a great honor it would be for me to represent as America's first dog," and so gave him up. Or maybe the breeder himself. Whoever it is, we hope this experience has caused the Post reporter who sat patiently waiting for permission from the White House to write about a dog to rethink the way he does his job.