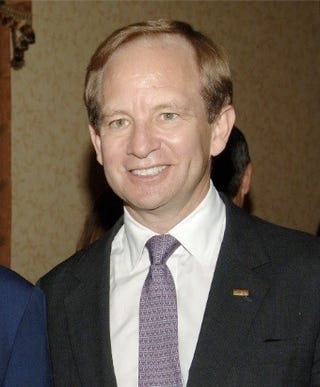 It's been quite a ride for Steven Rattner, from New York Times scribbler to investment banker to presidential adviser. But each passing day seems to undo his achievements a bit further.
The past week has been especially tough on Rattner, even as he tries to lead volatile auto bailout negotiations on behalf of the Obama Administration. The investment firm he founded and recently left, Quadrangle Group, appears to have made suspicious payments resulting in an investment from the New York state pension fund.
At first, it seemed Rattner might emerge from the scandal with his reputation intact. The Wall Street Journal, where Rattner reportedly maintains a "careful relationship" with owner Rupert Murdoch, merely chided him for the payments on its editorial page, where Obama Democrarts are usually treated quite ruthlessly.
But the revelations kept coming. Journal reporters showed how Rattner's company paid two additional "finder's fees" — to an allegedly crooked political consultant — for investments from pension funds in New York City and Los Angeles. Tomorrow's Journal will bring word Gotham's comptroller is investigating Quadrangle for failing to disclose the fees.
Rattner is used to defending Quadrangle's numerous failures. But he is above all a skilled gladhander. So most frustrating to him, probably, is news of of what his social contacts now say about him. From Politicker NY (emphasis added):
"I was shocked when I read about it in The Wall Street Journal," said John Catsimatidis, who, like Rattner, bundled donations for Clinton. "He always seemed like a very nice guy, a smart guy and I don't know how he can get himself tied up in crap like this."
"We are stunned," said one prominent Democratic donor.
One major fund-raiser who is not unsympathetic to Rattner said that there is some "snickering" by donors over his current predicament, which, even if it doesn't affect him in his current capacity, will not be helpful to his chances of eventually moving up into a more prominent role in the administration, perhaps at Treasury.
How sad for newspaper reporters: Their careers are in peril, and they need symbols of hope. But one of the few journalists to escape the profession for a life of wealth and influence seems to be quickly losing both.