S
What did I learn from Twitter today? Diablo Cody thinks dicks are dicks, Ruth Reichl makes a mean Gene Simmons, and Michelle Obama has her own big-media stalkerblog. Excellent! More Twitterings from the media elite: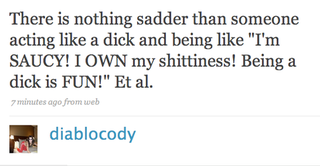 S
Juno scribe Diablo Cody talked about dicks.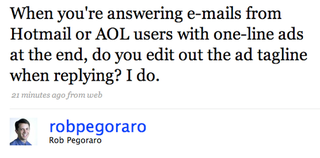 S
Washington Post tech reporter Rob Pegoraro discussed his email habits.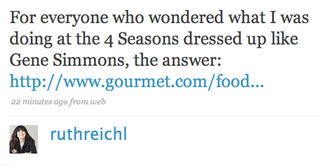 S
Gourmet editor Ruth Reichl discomfited everyone who hadn't realized she was dressed up as Gene Simmons.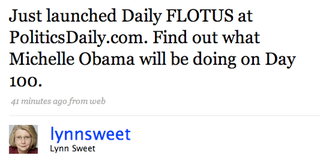 S
Chicago Sun-Times D.C. bureau chief Lynn Sweet fed our Michelle Obama obsession.



S
Today Show videoblog correspondent Sara Haines looked forward to puppies.

Did you witness the media elite tweet something indiscreet? Please email us your favorite tweets — or send us more Twitter usernames.