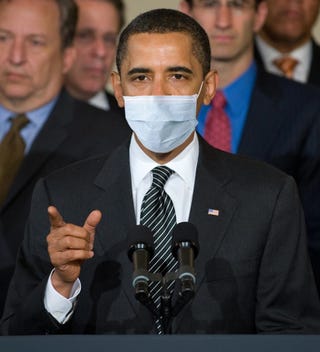 A member of Barack Obama's security detail has contracted a suspected case of the swine flu—this outbreak has Barack "The Typhoid President" Obama's fingerprints all over it.
It started in Mexico when Obama just happened to be visiting there. An archaeologist he met there died the next day from swine flu-like symptoms. And now a member of his own security team has it. Barack Obama is Patient Zero!
Joe Biden better really run now.
This development will no doubt lend even more credence to the obviously true theory floated by Concerned Women For America that the "swine flu" is really cover for a fake panic to ram through the nomination of Kathleen Sebelius as Secretary of Health and Human Services. Little did they know that Obama made the swine flu himself, in his bathroom sink!
Or maybe it's the most elaborate Al Qaeda assassination plot ever. Feel free to put your tin hats on in comments.
UPDATE: An Energy Department staffer is displaying flu-like symptoms, and three members of his family have tested positive for swine flu. How many people have to pay for Obama's mad scientist plot?
UPDATE: Here are some of the batshittier theories out there.