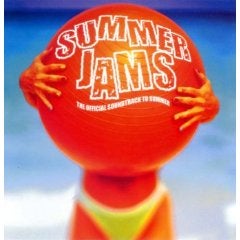 Gawker: Live, From Vegas! continues unabated through the night (so stick around!). Next on deck, another special guest for this hot, inaugural summer weekend: music writer extraordinaire and Idolator editor Maura Johnston. Maura, kick out the jams, please:
While the increasing likelihood that someone has eschewed new music in favor of retreating into the nostalgic coziness of her iPod has made the idea of a genre-spanning "summer jam" less and less likely through the years, New Yorkers do have a somewhat dubious advantage when it comes to songs of the hottest season: Our lack of reliance on cars, which results in us actually having to hear ambient noise that we haven't picked after endless scouring of file-sharing sites our completely legally acquired musical libraries. Below, seven tracks that you will likely be subjected to should you decide to spend headphone-free time in the city's agora.
2. Kris Allen, "No Boundaries"
4. Black Eyed Peas, "Boom Boom Pow"


You are probably already sick of the Black Eyed Peas' minimalistish new single—and its remixes, and its attendant HP-advertisement video, and Pepsi's insistence that lead Pea will.i.am is our generation's Bob Dylan, and Fergie's crazed eyebrows, and that whole dumb hologram thing. But that's the whole point of the Black Eyed Peas, really. In that way, they represent America in 2009 better than any other pop-cultural entity.
5. Cobra Starship feat. Leighton Meester, "Good Girls Go Bad"
7. Cage The Elephant, "Ain't No Rest For The Wicked"


Anyone who has nostalgia for the 1990s to the point where they wish that the decade would "come back" would do well to listen to this effort by Kentucky outfit Cage The Elephant, which sounds kind of like what would happen if the Butthole Surfers' "Pepper" were rewritten by members of Asher Roth's frat. Between this and the double-barrelled reunions of Limp Bizkit and Creed, we might be better off looking toward the future as a rule.
Honorable Mention: Journey, "Don't Stop Believing"