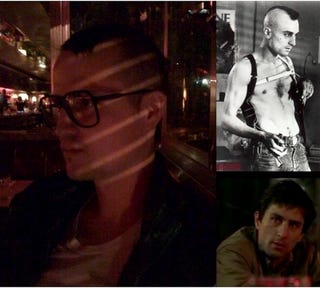 Vimeo founder Jakob Lodwick is now sporting a haircut straight out of Taxi Driver. Which wouldn't be disturbing, except that the young millionaire seems to be having a breakdown that would make a fitting sequel for the gritty film.
Lodwick has been as conflicted about his oversharing as any other internet fameball; he recently left the internet entirely, only to return. But his emotional volatility has seemed especially pronounced of late.
Earlier this year, Lodwick showed up half naked to a Web networking event and appeared in a variety of strange poses in pictures from the event. He later posted some sex pics, apparently of himself, to his blog.
Then in April he made an insane lipdub video in which he was swinging a knife and punching at the camera.
Now he's looking like a mohawked Robert DeNiro.
Lodwick, who invests in tech startups, says he "makes projects" for a living. Here's to hoping his strange antics just part of yet another "project" by the attention seeker, rather than a genuine indication of his state of mind.