S
Caroline McCarthy was so beyond debating Dave Matthews Band fans; Brian Stelter was so damning his depressing dinner and Joan Walsh had so had it with Bill O'Reilly. The Twitterati went beyond the breaking point.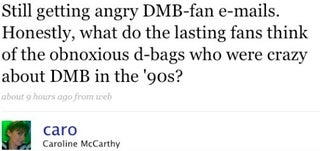 S
CNET's Caroline McCarthy came under attack from angry fans of the Dave Matthews Band. Would no one Back Her Up?

S
Salon's Joan Walsh did not appreciate having to watch Fox News Channel.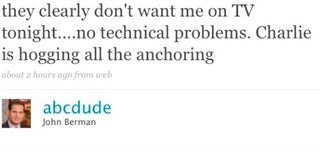 S
ABC backup anchor John Berman was not-so-silently praying for technical difficulties.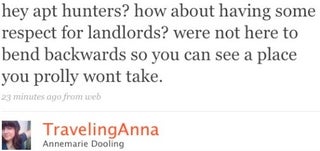 S
Web producer Annemarie Dooling grew tired of flaky renters.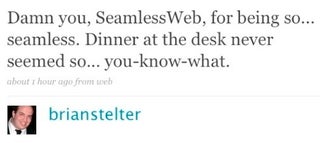 S
The New York Times' Brian Stelter ate a depressing dinner.


Did you witness the media elite tweet something indiscreet? Please email us your favorite tweets — or send us more Twitter usernames.