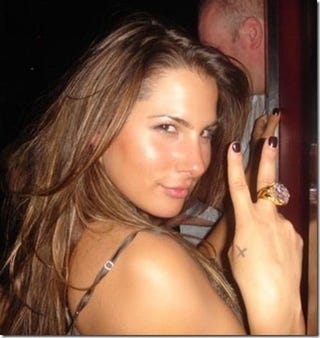 Ever find yourself laying in bed at night just looking up at the ceiling and wondering, "Gee, I wonder how often Eliot Spitzer paid for sex with whores?" Sure you have! We've all been there. Well finally we have an answer—-A lot!
Reports the New York Times:
Mr. Spitzer, according to the documents and the lawyer's comments, met regularly with Emperor's Club prostitutes, sometimes in cities outside of New York and Washington, over 18 months to 2 years, using a variety of aliases and paying with money orders from the United States Postal Service.

The records unsealed on Monday at the sentencing of the booker, Temeka Rachelle Lewis, 33, included the prosecution's letter detailing her "substantial assistance" to their investigation and her defense lawyer's sentencing memorandum.

In the memorandum, Ms. Lewis's lawyer, Marc Agnifilo, wrote that she "provided the government with the names of hotels, the approximate dates of meetings, the names of women the governor saw, different names the governor utilized and different ways the governor paid for these sessions."

The information, he wrote, also included the cities where the liaisons occurred, the period during which they occurred, the regularity with which they occurred and how he wanted the hotel rooms to be booked and reserved, "presumably to conceal his involvement."

He said that over 18 months to 2 years, the governor had arranged "several different liaisons" with women working for the Emperor's Club. The assignations, he said, took place in cities outside of New York and Washington, and the governor paid using postal money orders, a method he called "relatively unsophisticated" and an indication that Mr. Spitzer was spending his own money.
Reading this story had us imagining Eliot Spitzer, the Governor of New York, walking into a post office in Yonkers to buy a money order to pay for sex with a prostitute. How ridiculous is that? We always feel like the postal workers think we're up to something shady any time we've ever had to get a money order from the post office, so much so that we always feel compelled to explain exactly why we need it.
"So, um, yeah, so I've got to put this deposit down on an apartment and the landlord won't take a check, that's why I need this money order."
But then the clerk just usually looks at us funny and we leave convinced that they think we're getting a money order to pay for, well, whores!
Taking that into consideration, we wonder how Eliot Spitzer must have felt.
At Prostitution Ring Sentencing, Details of Spitzer's Liaisons [New York Times]