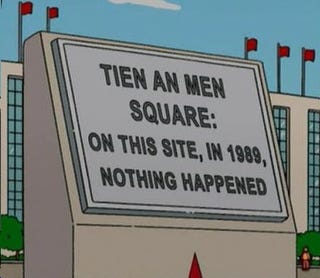 Today is the 20th anniversary of the Tiananmen Square massacre. China is celebrating by attempting to censor every single piece of information, anywhere, pertaining to the incident. Let's review China's tactics for keeping this anniversary a big secret:
Umbrellas of Mystery: This is THE BEST. China flooded Tiananmen Square with undercover cops who positioned themselves in front of reporters and cameramen and then opened big umbrellas, so the cameras couldn't see anything, except China's unified umbrella of the satisfied people. Problem solved!
The Internet is Closed: In China if you plug "4 June" into a search engine you find... nothing! Which is normal, of course, but was 4 June that boring? If the internet says so, I guess it was!
And Also: "In 2004, journalist Shi Tao was sentenced to 10 years imprisonment for sending an e-mail about the Tiananmen Square anniversary." That is the less subtle way to handle things, yes.