S
Anil Dash, Glenn Feischman and Nick Douglas created a parallel, imaginary Apple conference and Xeni Jardin met a very strange CNN producer. Life was surreal for the Twitterati.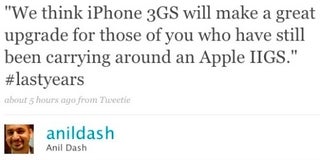 S
Six Apart's Anil Dash made a joke for people who remember 1986.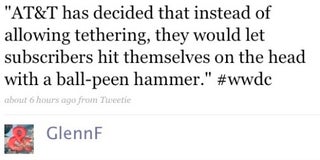 S
Tech writer Glenn Fleischman seemed to enjoy his heroic service in the peanut gallery.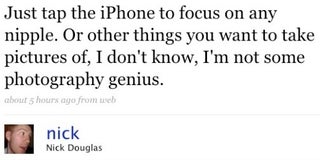 S
Professional Twitter compiler Nick Douglas immediately grasped the real-world implications of Apple's shiny new toy.

S
Engadget's Joshua Topolsky made us wish we were more up to speed on Gawker Media gossip.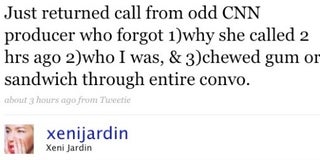 S
Xeni Jardin had a surreal CNN experience not involving Lou Dobbs or Anderson Cooper.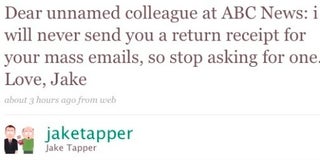 S
Jake Tapper engaged in passive-aggressive tweeting.


Did you witness the media elite tweet something indiscreet? Please email us your favorite tweets - or send us more Twitter usernames.