S
Jessica Coen lectured Trojan about its cock ring, while Ryan Seacrest promised to make his way through the single ladies of the Eastern Seaboard. For the Twitterati, sexytime was awkward.

S
Peter Kafka of All Things D knew it wouldn't be the Mirror Awards without relentless heckling and/or inside joking.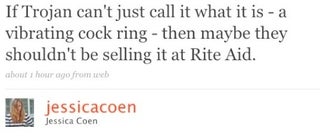 S
New York's Jessica Coen inadvertently stumbled into Rite Aid's obfuscated products aisle.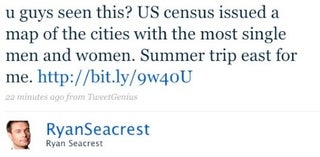 S
Ryan Seacrast eagerly devoured on opportunity to reassert his heterosexuality.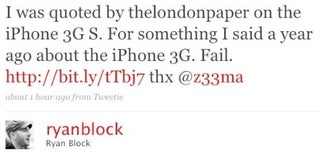 S
Engadget's Ryan Block recontextualized himself.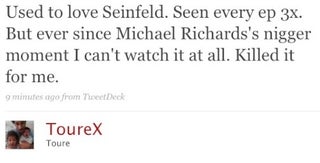 S
Toure was robbed of a simple, formerly non-racist pleasure.


Did you witness the media elite tweet something indiscreet? Please email us your favorite tweets - or send us more Twitter usernames.