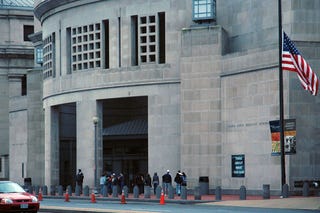 Updated:An elderly anti-Semite named James W. von Brunn is believed to be the shooter at the Holocaust Museum in Washington D.C. Author of anti-Semitic Kill the Best Gentiles, he's known as a hero among white supremacists.
According to the Washington Post, he walked into the museum with a shotgun shortly before 1 p.m. Though their earlier report cited three victims, it now appears that the only people shot were a security guard and the shooter himself.
At white supremacist discussion sites like Stormfront, von Brunn has been called a "racialist treasure" because of his 1999 book which argued that Jews were a deadly threat to white Americans. From its preface:

A typical review on Stormfront:


Here is the Southern Poverty Law Center's Mark Potok going through a bit of von Brunn's biography on MSNBC.
[Pic by pauria via Flickr]