S
A Dow Jones writer spanked the Washington Post; Evan Williams downplayed his kind of awesome "pre-cancerous" skin removal; and Ron Burkle drowned his problems in models. The Twitterati were lively!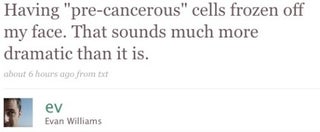 S
Evan Williams doesn't want you to be worried about the intersection of his face with liquid nitrogen. He isn't! But he secretly knows it's kinda badass.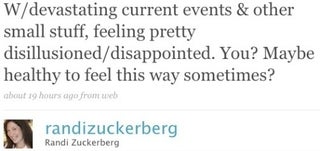 S
Facebook's Randi Zuckerberg had a rainy day. Cheer her up with a lipdub.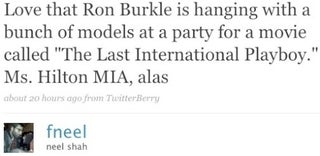 S
Page Six's Neel Shah spotted Ron Burkle with his hands full, as usual. No word on where his friends' hands were busy.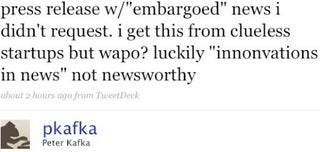 S
Peter Kafka of All Things D was hit by a clueless emission from the Washington Post.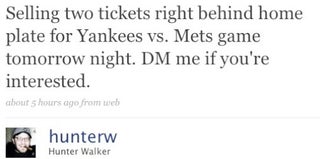 S
FishbowlNY's Hunter Walker made a sacrifice play that showed how desperate Gotham journalists had become.

Did you witness the media elite tweet something indiscreet? Please email us your favorite tweets - or send us more Twitter usernames.