There's a war on. You probably knew that, in the sense that you read somewhere about a major offensive in Afghanistan. But if you're like us, you haven't seen many photos. It looks like Vietnam over there.
We get up every morning and read the paper, watch cable news, scan the RSS feeds obsessively all day, watch cable news at night, and go to bed. And rarely are we confronted with photographic evidence of what's happening in Aghanistan, which has already claimed the lives of more international forces so far this July than any other month since the war began. Operation Khanjar, the coalition's attempt to sweep Al Quaeda and Taliban militants out of their stronghold in Southwestern Afghanistan, is the largest airlift offensive since the Vietnam War, involving 4,000 Marines. It is the first major step in Obama's efforts to escalate the war there, and crucial to the U.S.'s plan to restabilize the country and provide breathing room for President Hamad Karzai to operate. Just today, Defense Secretary Robert Gates said he was open to sending more troops to support the effort. Yet we were surprised to find a photo of an IED claiming the lives of two Marines on the front page of the New York Times Wednesday simply because a front-page battlefield photo is so rare.
But every day we are jarred when we check Cryptome, the conspiratorial anti-secrecy web site run by Manhattan architect John Young. Since the offensive began in Helmand Province late last month, Young has been posting striking images of what American servicemembers and their allies have been enduring in Afghanistan. Most of the images come from the Defense Department itself, which freely distributes battlefield photographs on its web site. It's a very strange thing that the best source for photos of the American way of war is a radical anti-authoritarian malcontent who posts Pentagon-approved imagery. These images should be on the front page of the New York Times every day, or at least every week. Here's a gallery.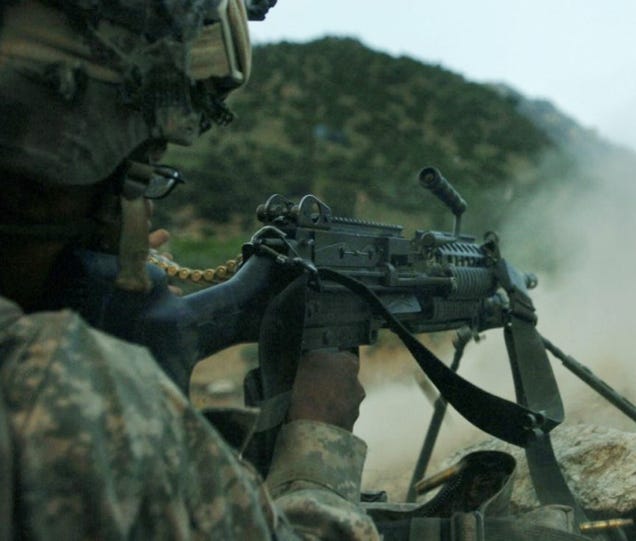 A U.S. Army Soldier with 1st Battalion, 32nd Infantry Regiment, 10th Mountain Division, during a gun battle with insurgents inside the village of Barge Matal, during Operation Mountain Fire, in Nuristan province, Afghanistan, July 12, 2009. (DoD photo by Sgt. Matthew C. Moeller, U.S. Army).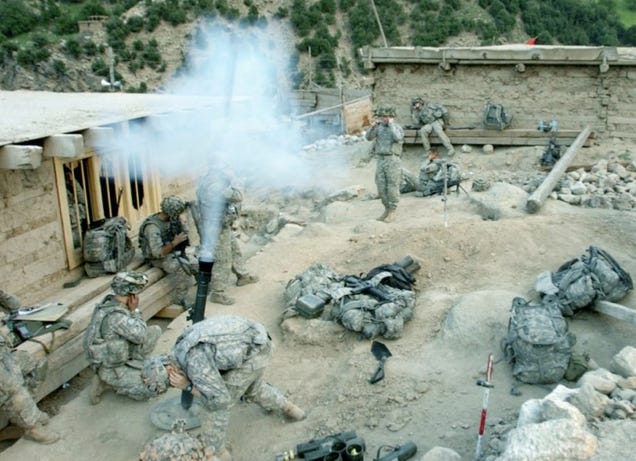 U.S. Soldiers fire mortars at Taliban fighting positions during a combat operation in the village of Barge Matal in the eastern Nuristan province of Afghanistan July 12, 2009. (DoD photo by Sgt. Matthew C. Moeller, U.S. Army)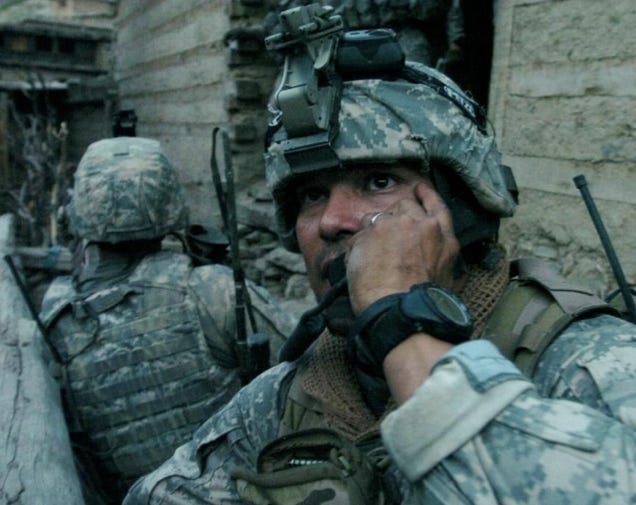 A U.S. Army soldier calls for an airstrike on the hills surrounding Barge Matal during Operation Mountain Fire in the eastern Nuristan province of Afghanistan on July 12, 2009. (DoD photo by Sgt. Matthew C. Moeller, U.S. Army)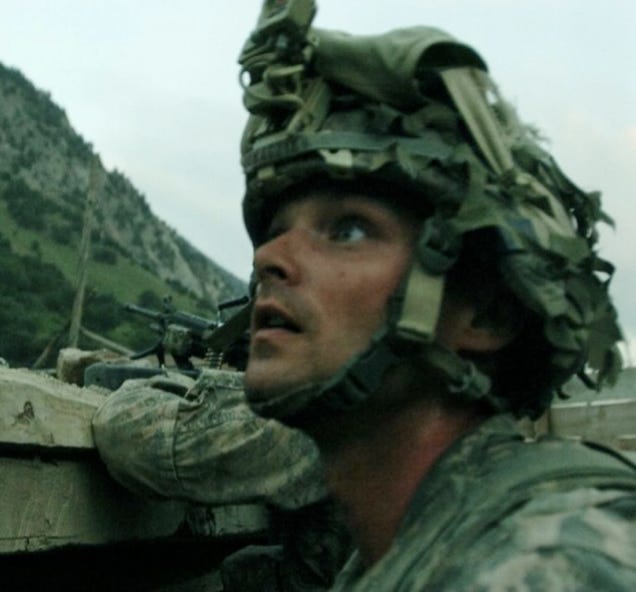 U.S. Army Soldier with 1st Battalion, 32nd Infantry Regiment, 10th Mountain Division, scans for insurgent forces as small arms fire and rocket-propelled grenades hit near U.S. and Afghan military positions inside the village of Barge Matal, during Operation Mountain Fire, in Nuristan province, Afghanistan, July 12, 2009. (DoD Photo by Sgt. Matthew C. Moeller, U.S. Army)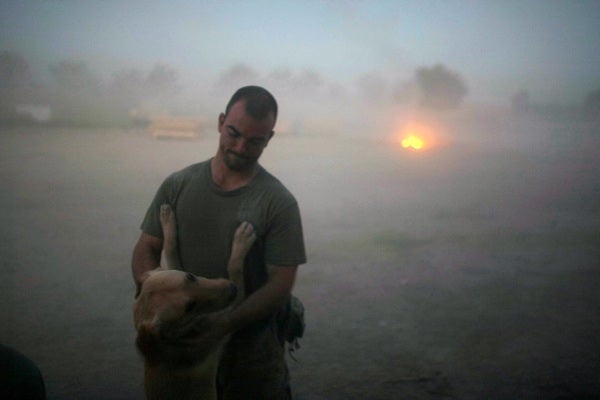 U.S. Marine Private First Class Dustin Watkins from Gaston, South Carolina with the 2nd Marine Expeditionary Brigade, RCT 2nd Battalion 8th Marines Echo Co. pets Tank, a bomb detecting dog, on July 13, 2009 in Mian Poshteh, Afghanistan. (Photo by Joe Raedle/Getty Images)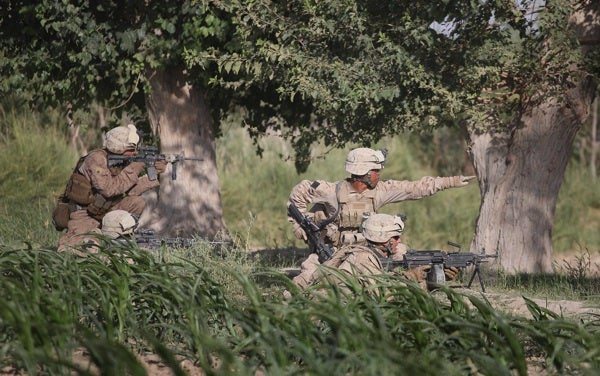 U.S. Marines with the 2nd Marine Expeditionary Brigade, RCT 2nd Battalion 8th Marines Echo Co. look for targets after taking enemy fire on July 17, 2009 in Mian Poshteh, Afghanistan. (Photo by Joe Raedle/Getty Images)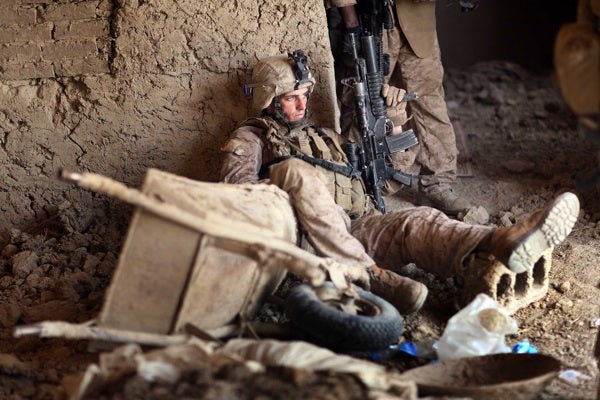 A U.S. Marine from 2nd Marine Expeditionary Brigade, RCT 2nd Battalion 8th Marines Echo Co. rests after a fire fight on July 9, 2009 in Mian Poshteh, Afghanistan. (Photo by Joe Raedle/Getty Images)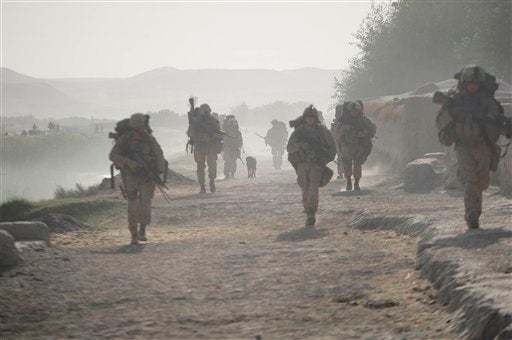 U.S. Marines from the 2nd Marine Expeditionary Brigade, 1st Battalion 5th Marines patrol through a village in the Nawa district in Afghanistan's Helmand province Saturday, July 4, 2009. (AP Photo/David Guttenfelder)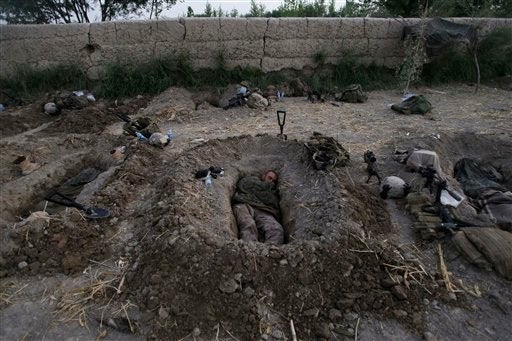 U.S. Marines from the 2nd MEB, 1st Battalion 5th Marines sleep in their fighting holes inside a compound where they stayed for the night, in the Nawa district of Afghanistan's Helmand province, Wednesday July 8, 2009. (AP Photo/David Guttenfelder)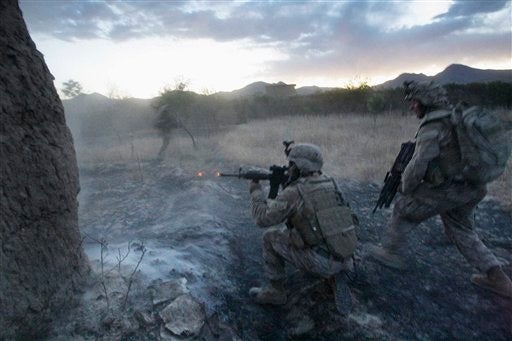 In this photo taken Saturday, June 20, 2009, U.S. Marines from the 2nd MEB, 2nd Battalion, 3rd Marines battle Taliban fighters inside a mud walled compound near Now Zad in Afghanistan's Helmand province. (AP Photo/David Guttenfelder)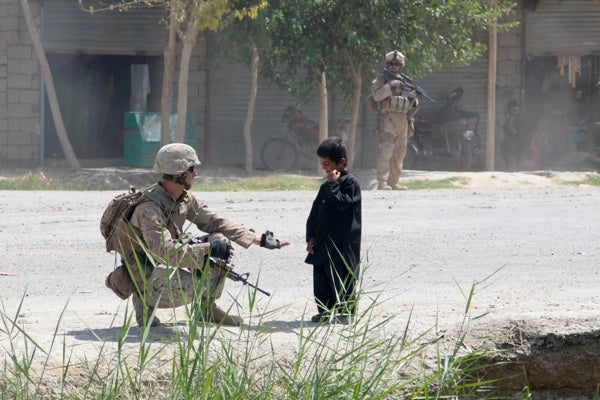 U.S. Marine Corps Cpl. Shawn Bartlett, a radio operator with 1st Battalion, 5th Marine Regiment, Regimental Combat Team 3, 2nd Marine Expeditionary Brigade, hands candy to an Afghan boy during a security patrol with Afghan National Army soldiers through the Nawa District bazaar in Helmand Province, Afghanistan, July 4, 2009. (U.S. Marine Corps photo by Staff Sgt. William Greeson/Released)