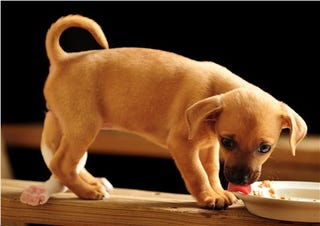 Lilly the five-legged puppy was born to be a star. But some misguided "dog lover" types are determined to see to it that she never achieves her Freak Show career dream! You monsters.
John Strong, a kindly man who runs a freak show on Coney Island, offered to buy Lilly and bring her here to the Big Apple, where she could achieve fame and fortune while amazing visitors with her many-leggedness. But then some lady in North Carolina too Lilly in and had her fifth leg removed, under the guise of "helping" her. Yea, helping her grow up to work at the 7-11!
"She'd better keep the dog's leg because she's not going to have a leg to stand on when I get through with her," said Strong, who has eight two-headed turtles and a two-headed cow in his menagerie.
John Strong is not a man to be trifled with. According to the NYT he "shares his bed with a dog named Wally, as well as tiny two-headed turtles that swim in little dishes," which indicates a fantastic aptitude for not rolling over in the middle of the night. He's still fighting to win custody of Lilly. And why not? Would a dog really feel "exploited" by working on Coney Island, which boasts America's highest concentration of hot dogs per square mile? It's a dream come true. Come, Lilly. Here, girl.