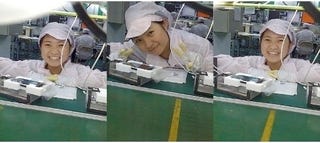 Apple contractor Foxconn says it didn't beat a worker who recently committed suicide. But it is paying compensation to the victim's family, promising reform — and trashing the worker as a serial leaker.
The New York Times today quoted friends of the dead worker, Sun Danyong, saying the logistics staffer and recent college graduate reported being "beaten and humiliated by the factory's security team" over his loss of an iPhone prototype, just before he committed suicide.
Foxconn denied this; then its staff joined a goon who threatened the Times itself with a beating:
A security guard, who was joined by two men wearing Foxconn shirts, threatened to "beat up" a journalist's translator if she persisted in asking the family questions. Foxconn officials later said the guard was not on their staff and might have been with the police bureau.
Foxconn says the worst that happened was that Sun's right shoulder was grabbed during an interrogation. But the company also told the Times it would improve factory management, and that it had paid Sun's loved ones:
The company paid compensation to Mr. Sun's family. It declined to say how much, but Mr. Sun's brother cited a figure of 300,000 renminbi, or more than $44,000, and said Mr. Sun's girlfriend was also given an Apple laptop computer.
Finally, a Foxconn manager told the Times that Sun "several times" had lost products, only to return them.
If Foxconn seems like it's flip flopping, maybe that's because Apple has put the company in an impossible situation: Running labor-camp factories with working conditions Apple itself could never get away with, without tarnishing Apple's sterling brand image. Apple hired Foxconn precisely so it didn't have to get its hands dirty in China. But that's a fantasy, as the fallout from Sun's suicide highlights.
(Pic: Foxconn Apple factory worker — not Sun Danyong — via)