S
Satan made George W. Bush invade Iraq; Barack Obama made White Sox hats cool and Kirstie Alley was thoroughly entertained by the National Enquirer. There are no such things as strange bedfellows, to the Twitterati.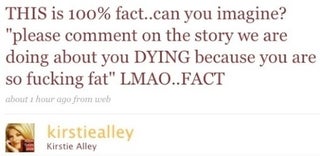 S
If Kirstie Alley wrote a blog called "Insane Calls I Get from the Celeb-Media," we'd totally read it all the time. This one was apparently from the National Enquirer.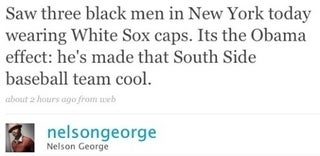 S
Writer Nelson George reported that White Sox caps are cool again, and not because you can make them say "sex" like in the big early 90s craze.

S
Activist Matt Browner Hamlin was disappointed to learn his evening entertainment had been canceled.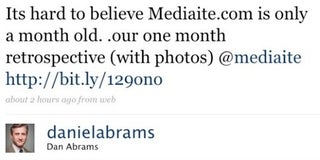 S
Dan Abrams' Twitter wrote about Dan Abrams' website writing about Dan Abrams' website being started one year ago, by Dan Abrams. Dan Abrams' stubble wrote a parallel entry on its own Twitter, also about turning one month old, but has yet to get a retweet from Dan Abrams, much less a Mediaite post or a consulting gig.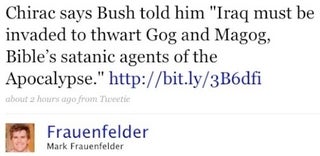 S
Boing Boing founder Mark Fauenfelder spread the Bad News, about Satan. #secularhumanistfriday


Did you witness the media elite tweet something indiscreet? Please email us your favorite tweets - or send us more Twitter usernames.