S
Karl Rove couldn't get on Twitter's watch list; Julia Allison was unable to broadcast a portion of her life and a comedian was unimpressed with comically large food. The Twitterati felt out of character.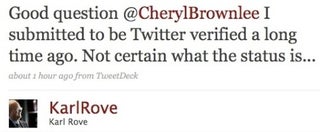 S
Amazingly, a San Francisco technology startup failed to give George W. Bush's henchman the recognition he felt he deserved.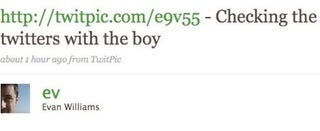 S
Twitter's Evan Williams took his son to work, if only virtually.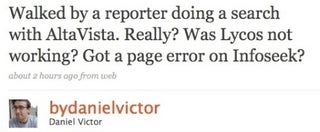 S
Daniel Victor of the Harrisburg, Pa.'s Patriot News conducted some journalistic anthropology.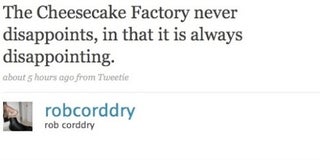 S
The Daily Show's Rob Corddry reported quality-control issues at the Cheesecake Factory.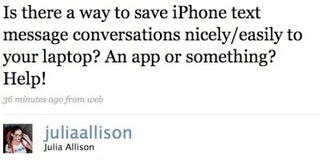 S
Lifecaster Julia Allison needed some help to overshare, for once.

Did you witness the media elite tweet something indiscreet? Please email us your favorite tweets - or send us more Twitter usernames.