S
Micro-swine divided flack from newspaperman; inept cabbies kept two journalists from drinking together and there is something happening involving sex pigeons. The Twitterati made fuzzy friends.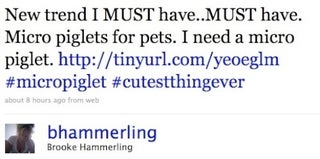 S
Silicon Valley flack Brooke Hammerling must have a $1,000 tiny pig. And not for breakfast, either.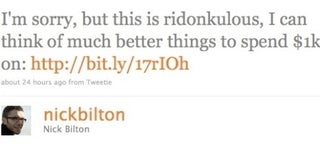 S
The New York Times' Nick Bilton can't believe some idiots will pay $1,000 for a tiny pig. And not even for breakfast or whatever!

S
Paul Carr learned to love San Francisco cabbies all over again on his way (apparently) to lunch with fellow TechCrunch contributor Sarah Lacy.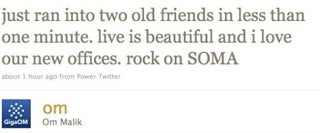 S
GigaOM's Om Malik is loving his new 'hood. So many friends. So few bloody tourists.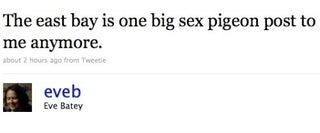 S
SF Appeal's Eve Batey loves Oakland and environs for their avian kink. We think.

Did you witness the media elite tweet something indiscreet? Please email us your favorite tweets - or send us more Twitter usernames.