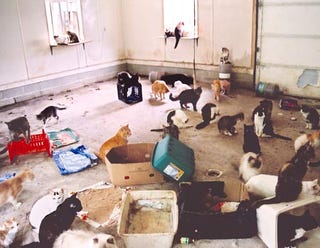 It used to be that people who were compulsive hoarders suffered in silence. Now they can suffer on national television! That A&E show Hoarders has made them the hottest crazies on the block. Should they be destroyed?
Sure, we all want to have a hoarder friend now, just to stay "in the loop" of pop culture. Who's more interesting, your normal stupid friends, or this person?
A subset of hoarders house large numbers of animals. Experts at the school of veterinary medicine at Tufts University report seeing cases with as many as 1,000 animals in a single home.
It's a thousand times better than having one cat! But hoarding's not just an interesting pastime for animal lovers. It has a dark side. Observe:
Overall hoarding is cool to look at and all but we're going to have to eradicate hoarders, for safety. Sorry dudes.
[Pic
via
]