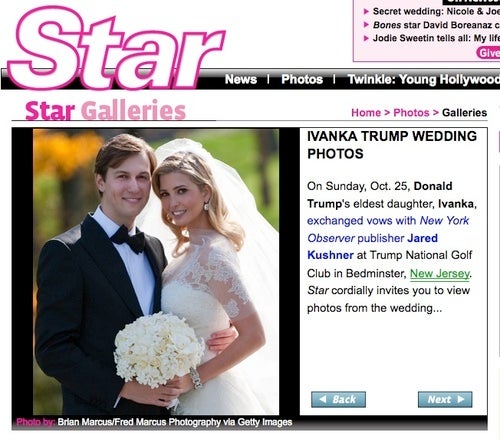 So the official wedding pics of Jared Kushner and Ivanka Trump are all over the internet. Boring, right? Yes. If you can make them better, we'll pay you.
We asked for attendees of yesterday's nuptials to send us their own pics when we saw the New York Post's exclusive wedding portrait this morning. After we saw the photos pop up on the websites for People, Star and PopSugar, we started making calls to find out how they got the pics, too.
A phone chain commenced. First their wedding photographer Fred Marcus Photography wouldn't tell us anything beyond "No comment." Then Steve Rubenstein (who reps both Jared and the Post) told us to call Ivanka's rep Rona Graf who told us the wedding pics are free handouts and to call Getty, which is distributing the photos. Getty, though, said that we had to promise to only use the photos for a "positive story." (That is how you get headlines like People's "FIRST PHOTO: 'Beautiful and Smart' Ivanka Trump & Jared Kushner.") This, Getty said, was on orders of a P.R. representing the couple (they wouldn't say who exactly) and since Gawker doesn't make ludicrous pledges, you'll have to go elsewhere to get your Kushner-Trump nuptial photographic fix.
So, we're starting a Gawker Contest*: We're offering $150 to the best Photoshop job on any of their handout wedding photos. Also, we'll pay the same prize to the person that sends us the best wedding photo that hasn't been released yet. Put your entries in the comments, or email us. The entire KushnerTrump clan anxiously awaits your work.
*Standard contest rules apply.