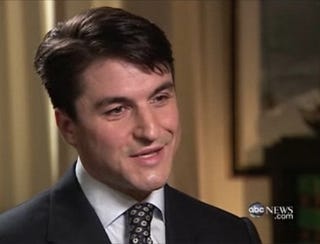 Tommy Davis, the latest chief spokesman and outraged-interview-cutter-offer for the Church of Scientology, is a callow Hollywood brat, Tom Cruise hanger-on, and "drug revert" who thinks "L. Ron Hubbard is the coolest guy ever."
Scientology has a long history of spastic, sweaty spokespersons with creepy laughs who eventually crack under the pressure and leave the organization. There was Robert Vaughn Young, who publicly renounced the church in 1989 after decades in its leadership. He was followed by Mike Rinder, an unhinged Australian bulldog who decided to stop lying for church leader David Miscavige last year and spoke out publicly about the cult's bizarre and arbitrary cruelty in June.
The latest inheritor of Young and Rinder's mantle as the unsettling public face of scientology is Tommy Davis, the head of the cult's Celebrity Centre in Los Angeles. Davis lived up to the role last week by walking out on ABC News's Martin Bashir during a Nightline interview after Bashir asked him about Xenu, the intergalactic warlord that Hubbard believed is responsible for saddling us all with a bunch of crazy body thetans.
So who is this guy, and how long before he cracks up and turns against the church like all the rest?