S
Ruth Riechl got smug over her soul-food meal on a train and Michael Bauer's readers got porn from his tweets. The Twitterati learned to watch what they ate.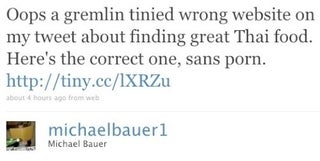 S
San Francisco Chronicle food and wine editor Michael Bauer blamed a "gremlin" for the porn surprise in his Twitter feed. His readers blamed themselves for not consuming his feed when it was fresher (and more porny).

S
Radio host Billy Bush basically said you're either with Twitter or you're with the terrorists.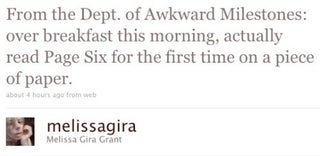 S
Writer and former Valleywag-er Melissa Gira Grant finally observed mass-market gossip in its native habitat.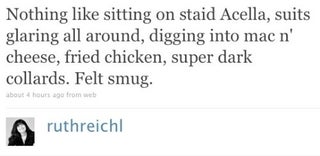 S
Former Gourmet editor Ruth Reichl might not have her food magazine, but she still has her "smug" sense of culinary superiority.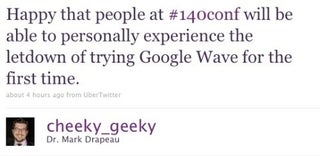 S
Science writer Mark Drapeau will not join your stupid "wave."


Did you witness the media elite tweet something indiscreet? Please email us your favorite tweets - or send us more Twitter usernames.