Last night was the premiere of This Is It, and there were galas in 16 cities around the world. Most of them were huge, ornate affairs. Except in New York, where barely anyone noticed.
According to the New York Times, the premiere at both the AMC Magic Johnson theater in Harlem and the Regal E-Walk Stadium 13 in Times Square were a complete bust. There has been a lot of anticipation for the film, cobbled together after Jackson's death in June with footage recorded at rehearsals for the This Is It tour. Well, anticipation everywhere but the Big Apple. Only a few dozen fans gathered at the Magic Johnson, and the Regal only sold out one of the three screens the movie was playing on, even though they managed to attract a bunch of B-listers.
Compare that to L.A., which filled the Nokia Theatre LA Live and had all sorts of A-listers turn out. In France, Germany, and China, thousands of fans—many in their finest Michael Jackson regalia—went to check out the film. In New York, everyone yawned and went home early on a rainy night.
Let us compare some pictures of the evening, shall we?
[Images via Getty]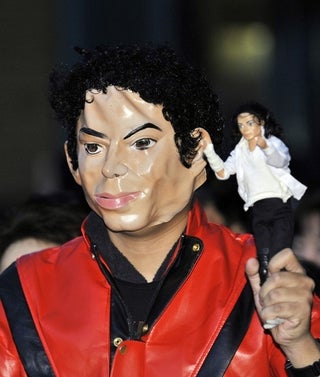 S
A fan got all dressed up as a Michael Jackson doll for the film's premiere in Tokyo.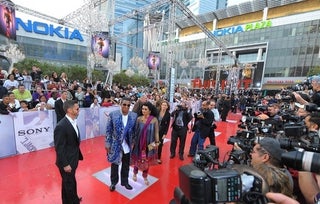 S
Jermaine Jackson and other members of the Jackson Five walked the red carpet outside the Nokia Theatre, which hosted Hollywood's celebrity-riddled premiere.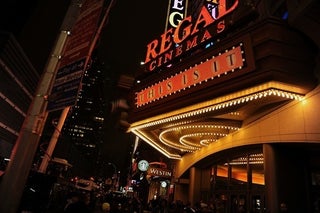 S
A scant crowd gathers outside the Regal theater in Times Square.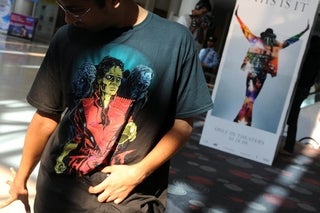 S
A fan busts some of MJ's moves before attending the premiere in Mumbai.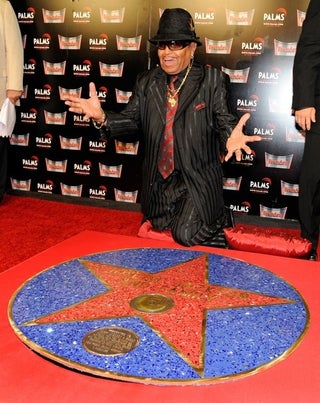 S
In typical fashion, Joe Jackson made it all about himself, accepting a "celebrity star" before the Las Vegas premiere at the Palms Resort.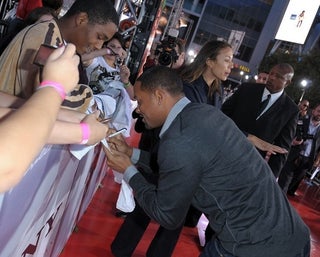 S
Will Smith signing autographs at the L.A. premiere. Other celebrities in attendance included Paris Hilton, Jennifer Lopez, Paula Abdul, Adam Lambert, Neil Patrick Harris, Katy Perry, Allison Janney, Anne Heche, and the cast of Glee.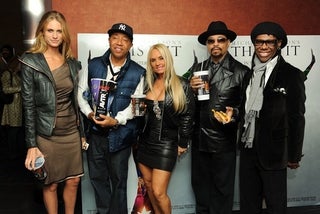 S
Julie Henderson, Russell Simmons, Coco, Ice T, and Nile Rodgers arrive in New York. Other celebrities people in attendance included Gayle King, Michael Urie, Rosie Perez, Nikki Blonsky, Carol Alt, Dreama Walker, Sherri Shepard, Nigel Barker, and Dylan Lauren.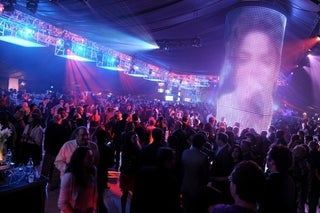 S
The afterparty for the L.A. premiere featured a pack house and the ghost of Michael Jackson as channeled by a giant seance.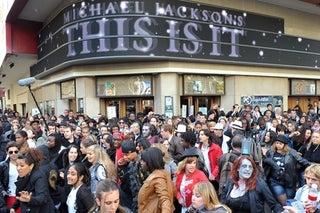 S
A large crowd gathers—including a flash mob—gathers outside the Grand Rex theater in Paris. Le freak, c'est chic!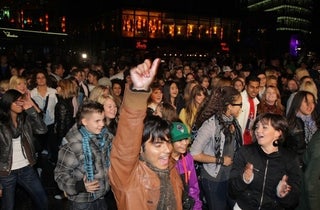 S
The German audience in Berlin couldn't wait to moonwalk into the Cinestar theater.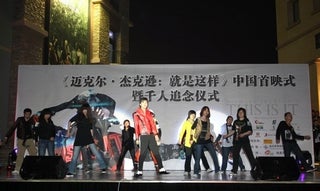 S
A Jackson tribute show entertained thousands of fans in front of the Saga Theater in Beijing. Apparently, Michael Jackson attire was optional.