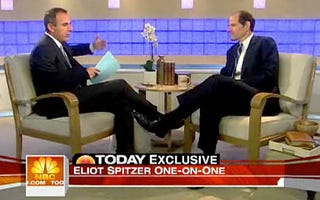 For our next installment of the Spitzer Files—our collection of e-mails between flacks and reporters during Eliot Spitzer's downfall—we bring you the tale of the Today producer who offered to help a flack find a job at NBC.
As soon as the New York Times broke the news of New York Gov. Eliot Spitzer's habit of patronizing high-end call girls on the afternoon of March 10, 2008, his communications director Christine Anderson pretty much knew she was out of a gig. But along with managing the media frenzy surrounding Spitzer, she also had a new boss, Gov. David Paterson, who almost immediately stirred up his own press storm by disclosing past affairs and drug use.
But before all that happened, Anderson was getting buried with requests for Spitzer. Among the first out of the gate was Matthew Zimmerman, Matt Lauer's booker at the Today show. He didn't land the exclusive Spitzer interview everyone was clamoring for—that went to CNN's Fareed Zakaria a year later—but in the course of pursuing the get, Zimmerman casually mentioned to Anderson that he'd be more than happy to help her find work at NBC News. He also turned up his nose at a shot at Paterson just hours before news broke of Paterson's past infidelities, at which point Zimmerman immediately did a 180 and begged for an interview with Paterson. Because governors are boring unless they're fucking people they shouldn't be fucking.
Read on to see how the exchange unfolded in e-mails, which we obtained by filing a public records for correspondence between the press and Spitzer's communications office during the crisis.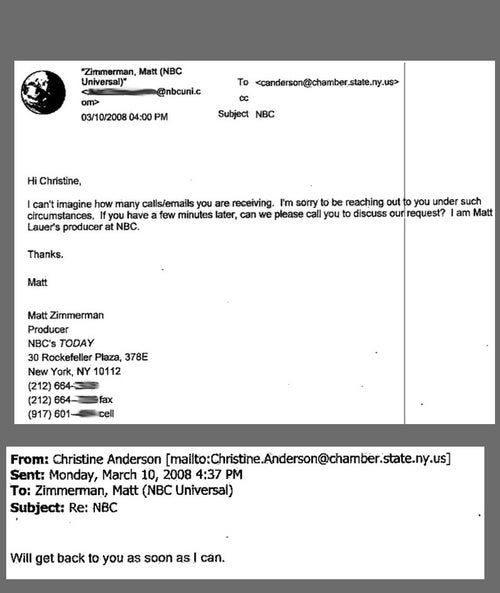 This is Zimmerman's first e-mail seeking the interview that every news producer wanted, just a few hours after the Spitzer story broke. It has the standard expression of sympathy common to television bookers ("I'm sorry to be reaching out to you in such circumstances") but reminds Anderson that he's not your run of the mill news lackey: "I am Matt Lauer's producer at NBC." Anderson politely brushed him off with a terse "will get back to you as soon as I can," which considering the circumstances could be a way of saying don't hold your breath.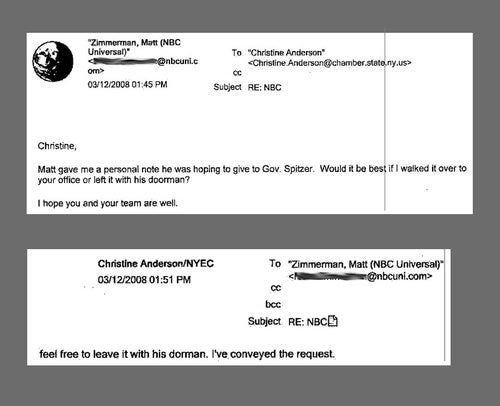 Two days later, Zimmerman and Lauer decided to up their efforts and go the direct route. Lauer had written "a personal note" to Spitzer, and Zimmerman wanted to know if he should it "walk it over" to Anderson's office or leave it with his Spitzer's doorman. Anderson says, "Feel free."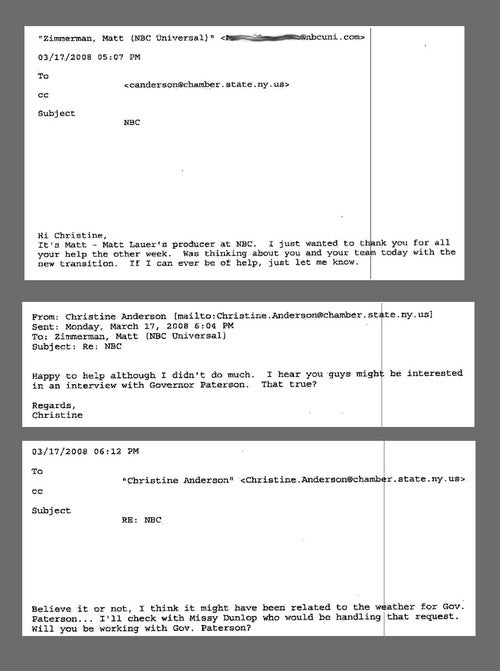 Five days later, on March 17, Spitzer's resignation became effective and Paterson was elevated from lieutenant governor to become the first African American governor of New York. Zimmerman circled back to thank Anderson for "all her help" during the crisis of the previous week, and to let her know that he's thinking about her. Anderson wrote back to say she heard Today was interested in talking to the first African American governor of New York, and she seemed to be willing to entertain the idea. How about it? At this point, though, Paterson was, in national news terms, the previously unknown politician who had replaced the celebrity governor who had been accused of sleeping with a hooker. Zimmerman's response to the offer is underwhelming and puzzling: "Believe it or not, I think it might have been related to the weather for Gov. Paterson... I'll check with Missy Dunlop who would be handling that request." The weather?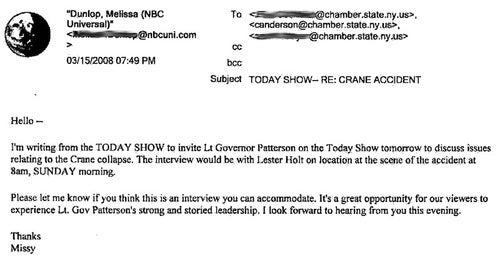 We're not sure what Zimmerman's "weather" comment referred to, but it could have been to this request of March 15 from another producer for Paterson to appear on the weekend edition of Today to talk to Lester Holt about the crane collapse that had killed seven people in Manhattan that day. Weather, cranes—both involve things falling from the sky, right? In any event, Zimmerman didn't exactly jump at the chance to book Paterson for Lauer, and Dunlop's request was for Weekend Today, which has a different staff. The Spitzer story had sex, scandal—the things people want to see Matt Lauer talking about at 7 o'clock in the morning. Paterson was kind of boring.
And Today has shown that it can be picky about the governors it books. We know they spurned an interview with some another lame boring governor who would become newsworthy because of scandal just a few hours later. Back in December 2008, Today had booked Illinois Gov. Rod Blagojevich on what turned out to be the morning of his arrest by FBI agents. But they bumped him at the last minute in order to make room for a segment flogging the announcement of Jay Leno's 10 p.m. show.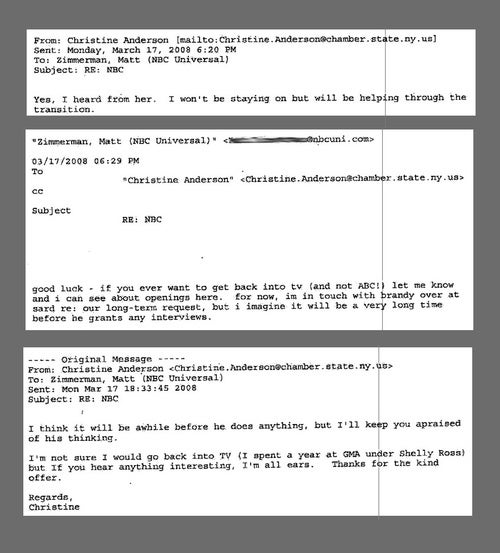 But back to the conversation Anderson and Zimmerman were having on March 17. Once Anderson told Zimmerman that she wouldn't be sticking around the governor's office, Zimmerman—who seemed to be aware that Anderson once worked as a producer for Good Morning America—thoughtfully offered to help her secure a new job: "If you ever want to get back into tv (and not ABC!) let me know and i can see about openings here."
Gosh, that was nice of him, wasn't it? Then, in the very next sentence after he offered to help her get a job, he got back to business, letting Anderson know that he'd been in touch with a flack at Sard Verbinnen & Co., the PR shop that Spitzer's law firm hired to handle media requests, and expressing doubt about his chances. But Anderson promised to keep Zimmerman "apraised" of Spitzer's thinking, and thanked him for the "kind offer."
Was it a generous and human thing to do for Zimmerman to offer to keep his ears open on the job front? Yes, it was. Was he also trying to get Anderson to help him secure access to Spitzer at the same time? Yes, he was. Both things are true, and the casualness with which he made the offer speaks volumes about the relationships between flacks and—oh, who are we kidding? It's Today.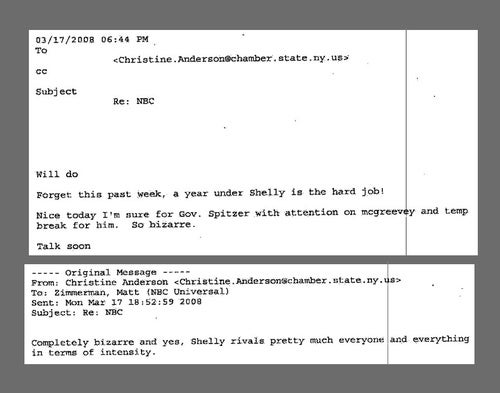 Anderson's quip about how dealing with a hooker disclosure is nothing compared to working for Shelley Ross, the legendarily horrible producer who was her boss at GMA, gave them a chance to gossip together. Zimmerman joked about how awesome it must be for Spitzer that former New Jersey Gov. Jim McGreevey's one-time aide recently claimed that he'd engaged in threeways with McGreevey and his wife. There would be more news to take the pressure off Spitzer in just a few hours....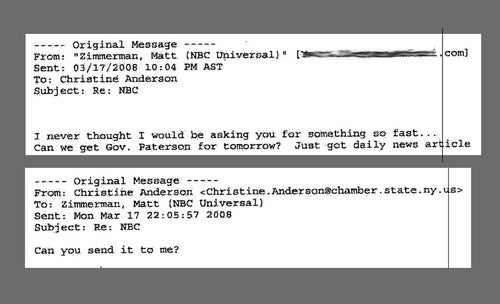 ...when the Daily News story detailing Paterson's past marital troubles hit the web that night. All of a sudden, Zimmerman was much more keen on having Matt Lauer talk to the first African American governor of New York on the Today show, because he had screwed state employees in the past. Anderson hadn't even seen the story yet, so Zimmerman sent it to her.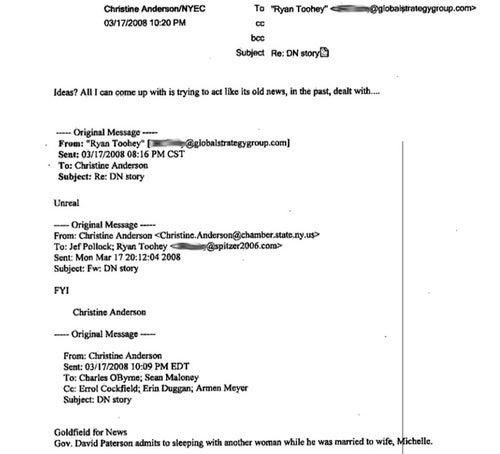 Anderson promptly forwarded it along to political consultants Ryan Toohey and Jeff Pollock to brainstorm how to spin it. Hilarity ensues: "Unreal." "Ideas?"
Neither Spitzer nor Paterson ended up appearing on Today during the height of the scandal, and Anderson wound up getting a job as vice president of communications at the Blackstone Group, a private equity firm. But eventually Today got their man: Spitzer sat down with Lauer this past April as part of his public image rehab campaign and told the nation that there were "no excuses" for his behavior.
Zimmerman didn't respond to requests for comment, and Anderson declined to comment.