S
Brooke Hammerling was once beguiled by an accent; Sarah Lacy was charmed by Middle Eastern calls to prayer and Wired locked the doors between print and online. The Twitterati reconsidered that which is foreign.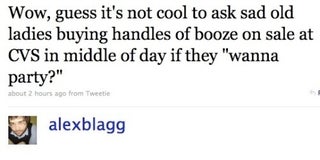 S
Wonderwall's Alex Blagg was just trying to be social, geeez.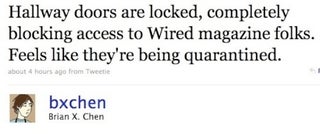 S
Print media is to remain in its room until it feels well enough to stop destroying the company. Wired.com's Brian X. Chen didn't specifically say that, but it's the sort of Si Newhouse conference call we like to imagine.

S
Ubiquitous Silicon Valley flack Brooke Hammerling, recently tweeting from Mexico, got burned by some kind of suave foreigner.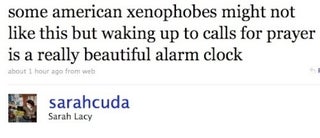 S
TechCrunch's Sarah Lacy, recently tweeting from India, said overemotional self-centered Americans could learn a thing or two from waking up in another country. Let's hope so!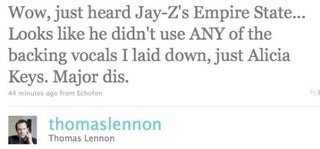 S
Lt. Dangle's R&B career was stillborn


Did you witness the media elite tweet something indiscreet? Please email us your favorite tweets - or send us more Twitter usernames.