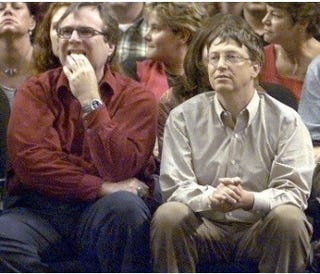 Paul Allen has been diagnosed with non-Hodgkins lymphoma. It's more tough news for the Microsoft co-founder, who has overcome more than his share of health problems before.
In 1983, when Microsoft was still a small (if fast-growing), privately-held software company, Allen left his company to battle Hodgkin's disease, undergoing radiation therapy and a bone marrow transplant. (He retained a substantial stake in the company, which eventually made him fabulously wealthy.) A year ago, Allen underwent an "undisclosed medical procedure" that took him away from a local awards ceremony attended by his Microsoft partner Bill Gates.
His health then seemed to improve, but now Allen's announced a diagnosis of "diffuse large B-cell lymphoma, a relatively common for of lymphoma." The good news: Allen believes he'll be able to continue his role as chairman of investment firm Vulcan, Inc. And he's been through this before. As Bill Gates told TechFlash, " I know [Allen] to be a strong and resilient individual."
(Pic: Allen, left, with his friend Gates at a 2000 Portland Trail Blazers game. Getty Images.)