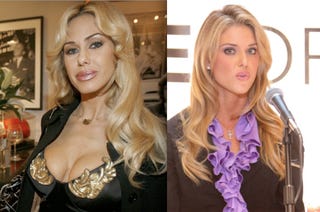 Carrie Prejean is horrifed by Shauna Sand's attempt to inspire her; Bijou Phillips' incest movie was a lot less creepy before Mackenzie wrote that book; 50 Cent has some tattoos removed. Et voila, Wednesday's gossip!
Shauna Sand, the scariest face in adult entertainment, penned an impassioned missive to Carrie Prejean describing her own odyssey from unwitting sex tape participant to Vivid-Celeb star: "Instead of spending thousands of dollars in legal fees... I could actually turn things around." Like Carrie, Shauna "not only starred in, but also directed and added the music to" her sex tape. I'm pretty sure Vivid chair Steve Hirsch forced Shauna to do this. Alternately, it finally dawned on Shauna that she might get a late-breaking burst of attention. [TMZ]


Unfortunately for Shauna and Vivid, Carrie is sick and tired of this game. No means no, you meanie heathens. Prejean's lawyer sent a letter to Vivid charging that "your company has apparently told the media that it plans to publish the videotapes and/or photographs of my client with or without her permission." Which, to be fair, is a pretty ominous thing to have hanging over your head. [TMZ]


50 Cent had his arm tattoos removed. "I've been on a few acting projects and they been making me get up... My call time is four hours before the regular acting talent because of the tattoos." Now that he's starring opposite Nicolas Cage in a boxing flick, the early morning annoyance to insane laser removal pain ratio has finally reached its tipping point. [ShowBizSpy]


Bijou Phillips' incest-y movie is totally embarrassing now that Mackenzie's incest book is out. Bijou is freaked out about the Dec. 1 premiere of Made for Each Other, where she will have sex scenes with Chris Masterson, who is the brother of her real-life husband Danny, who is also in the movie. OK, Mackenzie's bombshell obviously makes this a lot worse, but I'd venture to say it was kind of icky before that, too. [P6]


"Battle of Anchors at ABC"! Charlie Gibson hates Diane Sawyer and is begging for George Stephanopoulos to be his successor on Sunday morning's This Week ABC Evening News, mostly to infuriate the guys who type in the names that go on the bottom of the screen. [P6]


J.Lo's ex—the one trying to sell her sex tapes—says Jenny from the Block is stalking him. Says his business manager: "She's having him followed." Says his lawyer: "He's had death threats." Now, shadowy detectives I was willing to believe, but once they threw death threats in, I knew it was a lie. J.Lo is many things, but she is not sloppy. [P6]


Alleged Cindy Crawford blackmailer surrenders! Edis Kayalar, the male model accused of demanding $100,000 in exchange for "sexy" S&M photos of Crawford's 8-year-old daughter, has turned himself in to German authorities. Now he must wait around while L.A. County figures out what to do with the alleged horrifying creep. [People]


New Moon star and werewolf-portrayer Kellan Lutz got bounced from his own movie's after party. Apparently the security guards didn't know who he was and "it looked like things were getting physical between then," at which point Lutz sprouted fur from his back and claws from his hands, ripped the velvet rope to shreds, and proceeded in. [P6]


The police chief accused of breaking into Sarah Jessica Parker's surrogate's home stole ultrasounds and a plaster cast of the mom's belly, a paparazzo testified in open court. Allegedly, the accused was a total hardball, demanding $1000 for the surrogate's name and address, and gearing up for a serious haggle for the tummy mould. Cindy Crawford's blackmailer should take note: This is how the professional sleazebags roll. [AP]


Heather Locklear is "acting like a prima donna" on the Melrose Place set because she is "insecure and on edge." Also, now that A.Simps is gone, she's the most famous one there, so it's sort of her right, you know? [ShowBizSpy]



Correction: Stephanopoulos hosts This Week, the promotion Gibson allegedly wants him to get is to anchor the evening news. Apologies.