A Chicagoan is named as one of the people behind the 2008 Mumbai terrorist attacks, and the late-breaking Tiger Woods story means the tabloids are behind.
It was one of those days when the biggest tabloid story — that someone was taken to hospital from Tiger Woods' house at 2.36am — broke far too late for the papers. So they're left with yesterday's news on their front pages and the lead on their websites. There's a moral in there somewhere. The EPA's efforts to rein in carbon emissions make the front almost everywhere too, as do the Iranian protests (with a lot less mention of Twitter). Other notable and/or good stories today:
The New York Times continues its investigation into water in the US — and finds a lot of it is dirty.
The Washington Post points out that swine flu is not, in fact, going to kill us all.
The Los Angeles Times has one of those old-fashioned, local campaign stories which people are always lamenting the loss of — this one about a spate of birth defects in a small town.
Disclosure: I freelance write and report for newspapers that are included in this roundup. Where there is a direct conflict of interest I will make it clear.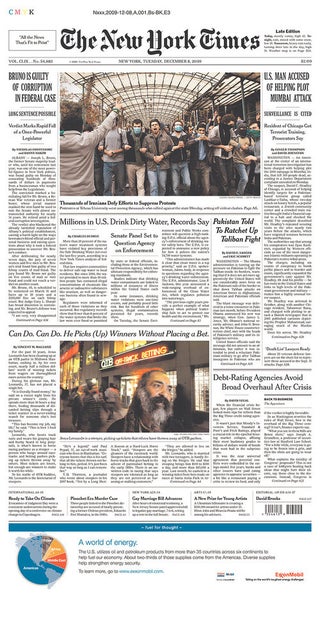 S
The New York Times: reports on the verdict that former Senate majority leader Joseph I. Bruno is guilty of corruption. Another great day for Albany. There's also news that an American man is accused of helping to plot the Mumbai terrorist attacks in 2008 — nearby on the page, perhaps deliberately, is a piece about increased US pressure on Pakistan to fight insurgent forces within its borders. We're all drinking dirty water, except this man, who earns enough from discarded betting slips to drink all the Evian he wants and the ratings agencies which helped cause the financial crisis — they drink the tears of poor children.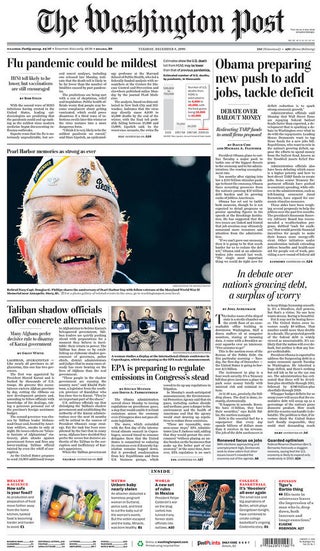 S
The Washington Post: leads with news that H1N1 is not going to kill us all, that Obama is preparing to try and tackle job losses and the deficit, and that that deficit is huge but not necessarily terminal. Which all counts as good news these days. The Taliban are more organized than the actual Afghan government, and the EPA are more organized than congress (when it comes to curbing carbon dioxide emissions).
S
The LA Times: when it's 70 and sunny every day snow is big news. The story that the EPA is spearheading efforts to rein in carbon emissions is the lead, followed closely by the protests in Iran. The news that anti-depressants may affect peoples' personalities as well as their symptoms probably counts as local news when you cover Hollywood and pieces on a delayed rail project and a quintessential, and great, campaigning report on how hazardous waste may be causing birth defects in a small town add to the LA coverage.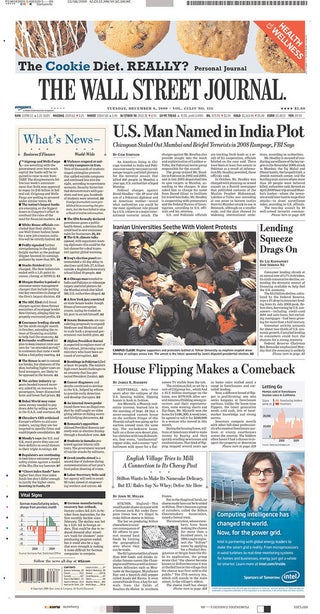 S
The Wall Street Journal: leads with the news that a US man was allegedly involved with the Mumbai attacks. While consumer lending is still dropping, some people are still flipping houses. Others, meanwhile, can't even make cheese in a town — Stilton — that a delicious cheese is named after. The humanity. The Journal manage to get a pun out of it though, so it's OK.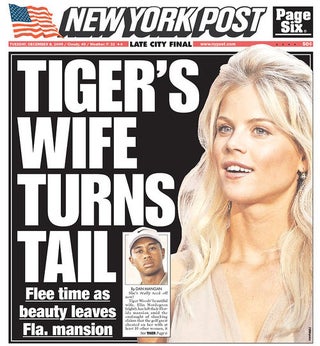 S
The New York Post: shows off a new picture of Tiger Woods' wife, with the news that she's bought a house in Sweden. Their pun — 'flee time' — officially sucks.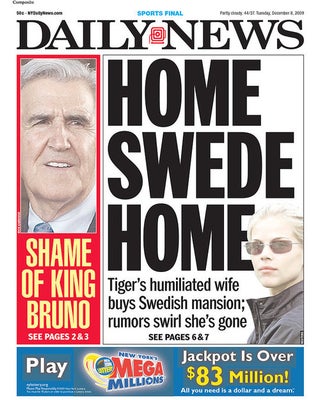 S
The Daily News: has the same story, about Woods' wife buying a house in her home country, as well as the news of former Senate leader Bruno's conviction.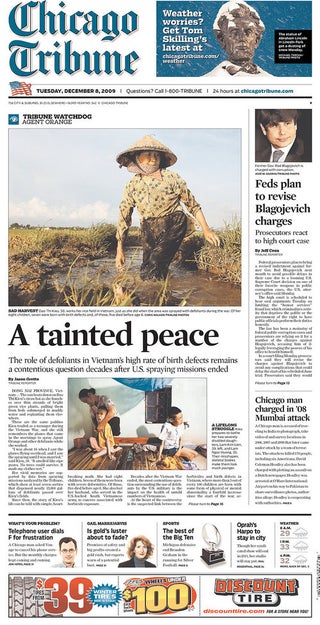 S
The Chicago Tribune: apparently puts less weight on the fact that a Chicago man was named as behind the Mumbai terror attacks than its counterparts around the country.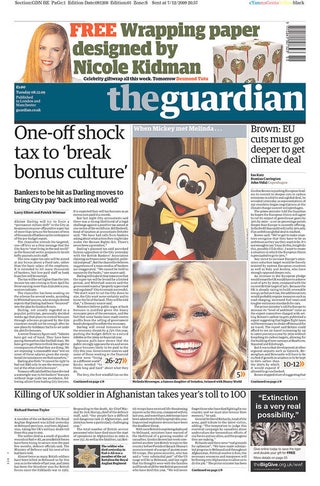 S
The Guardian (UK): a wonderful paper (for whom I write), is giving away wallpaper designed by Nicole Kidman. What's next? Bedsheets by Matthew McConaughey? Placemats by Cate Blanchett? Olivia Wilde's over-the-door hooks?