S
A senator accepted a bundle of cash; Susan Orlean imbibed something 'hard core;' and Ana Marie Cox touched someone again. The Twitterati had a lot of explaining to do.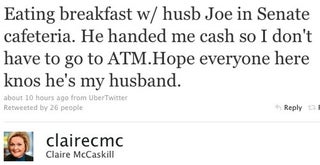 S
Senator Cair McCaskill (D, Missouri) would like you to know she wasn't accepting a bribe from her lover in the cafeteria today. Everything in Congress is so hard.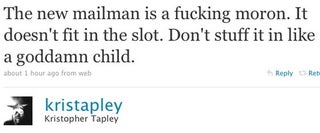 S
Cinephile journalist Kristopher Tapley has had it with his idiot mailman.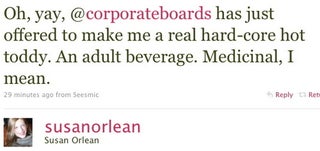 S
No one can make a cocktail <a href="http://twitter.com/susanorl

S
The Huffington Post's Jason Linkins has alleged that Air America's Ana Marie Cox touched him unexpectedly. Show us, on the doll. (Not Ana's doll.)

S
Always with the Twitter self promotion, New York Times' Brian Stelter.


Did you witness the media elite tweet something indiscreet? Please email us your favorite tweets - or send us more Twitter usernames.