Working for Gawker does not lend itself to getting invited to fancy media holiday parties. So we have to use Twitter to spy on them. After the jump: three of tonight's fancy parties and a plea for your help.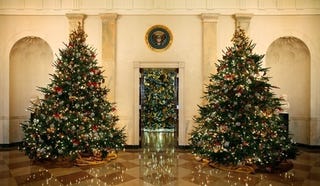 The White House Holiday Party (print journalism edition)
First up: The controversial White House holiday party for print journalists! (Well, "controversial" among print journalists, because, as Politico reports, Gasp! There may not be a receiving line where members of the press can go up to the Obamas for a gentle scratch on the back of the neck and a treat.)
Judging from her snapshot of the White House gingerbread house, Arianna Huffington needs a new camera with which to iBrag about chilling with the first family: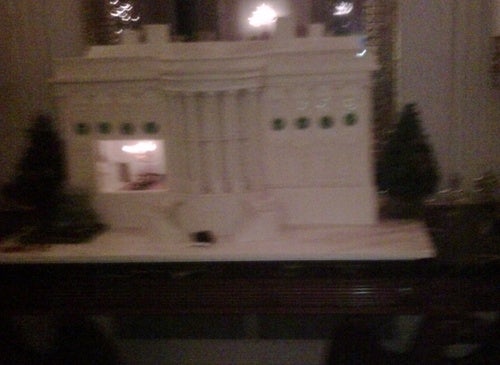 One visitor, Jonathan Schleifler (senior policy adviser to Congressman Anthony Weiner) is not impressed with the White House's chosen rendition of a traditional Hanukkah song: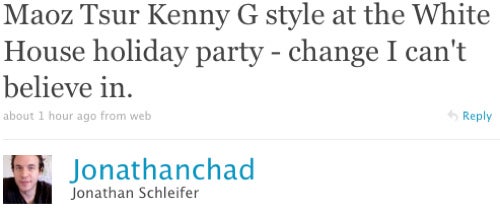 And the proprietor of the blog Last Night's Mixtapes snapped a couple pics which suggest there was, indeed, a receiving line. He must have gotten all of two seconds with the First Couple: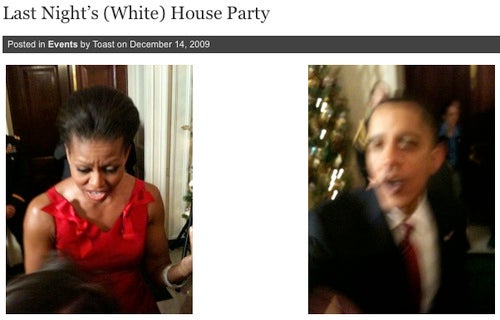 So, that looks like a lot of fun. Tomorrow night is the shindig for broadcast journalists, and on the 16th is the even more controversial Hanukkah party! Out of all the duties of the presidency we would not want, high among that list is dealing with angry Jews and/or journalists three nights in a row.
Vogue
The Vogue holiday party is notoriously hush-hush. But we're pretty sure we found a loose-lipped Twitterer who sank that ship. John Wellington, who in his bio describes himself as a "producer, stylist, performer, Dandy" let slip this revealing tweet earlier today: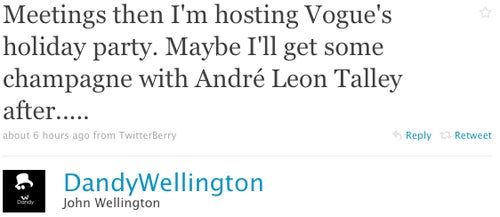 We're guessing you're not going to get any champagne with Andre Leon Talley, Vogue editor-at-large, because he's going to kick your ass for spoiling his super secret party. (Anyone want to fill us in on the glittering goings-on? Does Anna Wintour get down after a few or what!?)
We started thinking about crashing the Vogue soiree, but didn't know where to go. Thank you, John Wellington, for telling us a few hours later:



That would be the Amnesia bar in Chelsea, we're assuming.
What are you guys waiting for? Make like the Salahis and crash that shit now. It's totally still raging: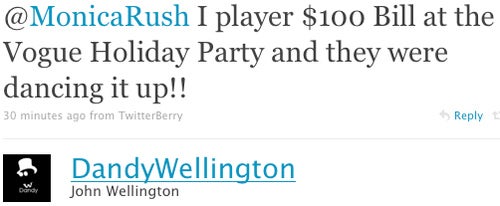 Daily News freelancer Jamie Locher tweeted this a couple hours ago:



Looking forward to reading that piece, Jamie! Here's hoping Locher sits down to finish her draft tonight after a few too many nogs; the Daily News' prose could definitely use a little boozy kick. (I mean, those incredible Post headlines can't be the products of a sober mind, right?)