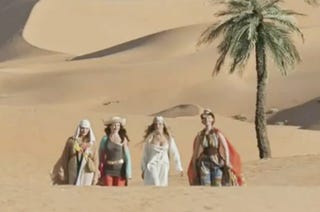 In Dubai, Carrie and the girls flout their steepest recession yet. Dr. Conrad Murray films a show, Brittany Murphy could cry out of one eye at a time on command, Carrie Underwood flaunts her engagement ring. Wednesday gossip is decadent.
The Sex and the City franchise has finally crossed the threshold from "hanging on to former glory" and to "what gimmick can we add this time?" which is the moment when it is officially acceptable to enjoy it again, much like when the Sweet Valley franchise got to college and all of a sudden there were whole chapters of erotic fiction. Anyway, the new SATC movie trailer is out, and at first it's same-old same-old, shoe shopping and Manhattan party hopping. But then—sand dunes! Camels! Cultural imperialism! We arrive in Dubai, where Carrie and the girls will flout their steepest recession yet, with high-stakes fashion risks like disco turbans and chapped lips. [YouTube]


Meanwhile, Jake Gyllenhaal is living out a male version of the first Sex and the City Movie, vacationing with his bros at the very resort where he had intended to propose to Reese. [NBN]


Carrie Underwood went to cheer on fiancee Mike Fisher at a hockey game and showed off an engagement ring so ginormous I wonder if she bought it herself. [fig.1] [HuffPo]


"Simon's deffo quitting American Idol, according to his big-gobbed brother." [3am]


Brittany Murphy's final role, the lead in psychological thriller Abandoned, is a woman who believes her husband has vanished and whose unkempt eyebrows suggest that a red herring twist will reveal her to be not the sylph-like victim but the hideous villain. [fig.2] "She could cry out of one eye and you just had to pick which eye youw anted. She was that good at her craft," said director Michael Feifer. [People]


Dr. Conrad Murray could become a reality star, but like Octomom, they're calling it a British "documentary." A camera crew recorded Dr. Murray's return to medicine last month, but they'll wait until the Jacko murder investigation is complete to air it. He probably did it for the money: Apparently he's got a lot of child support and debt. [TMZ]


Casey Johnson's life has devolved into Page Six's saddest comic strip. Today, we find out the sad conclusion of Tila Tequila's and her grand cross-continental adventure to steal daughter Ava back from her grandmother: "missed her flight." Identified this time around as a "Q-tip heiress," Casey is reportedly jealous of Paris Hilton's and the Kardashians' fame. [P6]


Britney Spears has been browsing engagement rings, but talent agent beau Jason Trawick hasn't been with her. Hopefully they marry, and when you squint your eyes, her last name will be "Trainwreck." [Gatecrasher]


T.I. finally got out of prison for owning machine guns and silencers. There are few items as resistant to innocent explanation as those. [CNN]


Christina Aguilera was in a West Hollywood fender bender with her assistant driving. They were wearing matching scarves, and Xtina matched her lipstick to her assistant's sweater. What is it with celebrities and their stylish vehicular collisions? This must be why everyone in L.A. liked Crash so much. [fig.3] [TMZ]


Page Six says it's time for Tiger to talk: His favorability rating plummeted to 34 percent (Which strikes me as high. Maybe that is the portion of the population that actually had sex with him?) compared to 60 percent (also high!) at the peak of his press coverage in early December. Although I'm getting the distinct feeling that Tiger's career is actually over, and he is cruising to become Howard Hughesian shut-in. He will reenter the public consciousness twenty years from now when he stars in an episode of Hoarders. [P6]


Ashanti's stalker has been sentenced to two years in jail for sending raunchy penis pictures and creepy "I'm watching you" messages to Ashanti momager Tina Douglas for years on end. Douglas told the jury she could've gotten rid of Devar Hurd by changing her phone number, but do you know how many people have this number? Upon which everyone in the jury pursed their lips and nodded. Yes, changing numbers sucks. [NYDN]


Figure 1.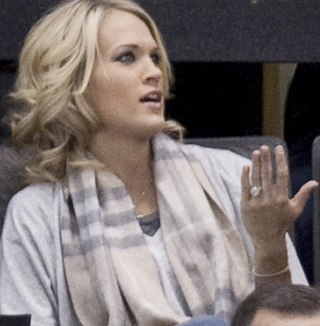 Figure 2.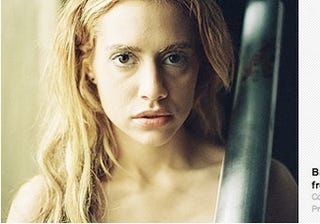 Figure 3.