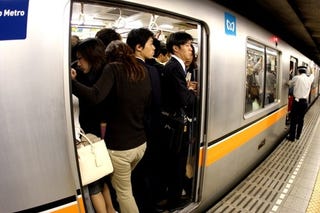 The Wall Street Journal does a piece of recession cultural anthropology today about Japanese people abandoning their preference for living alone and shacking up with roommates. Clearly, the Journal haven't been to New York. Or read Vice this month.
Tokyoers (or Tokyoites, or whatever you call people who live in Tokyo) will apparently soon be living like the people in this story in Vice, about five Brooklynites crammed into a tiny Bushwick apartment, listening to each others' sex. People who enjoy cleanliness and tidiness to any mildly obsessive extent, beware — the picture will make you want to line coasters up with the edges of tables.
Of course the people of Tokyo are not doing it like the (word to replace hipsters to go here) of Brooklyn. They're obsessively labelling stuff, and not letting men into ladies-only apartments. But there is evidence that Tokyo in a recession is becoming... New York.
Demographic shifts in Japan have created a breed of single women who work late, are often out on the weekends and just want a convenient place to crash. "The average age for marriage in Japan is steadily increasing, and fewer females want to live at home with their parents," says Takanori Nakamura, a senior research and development director at Hakuhodo Inc, a Japanese advertising agency. "Meanwhile, salaries are decreasing and women want to maintain their lifestyles. Rent is the first thing they cut.