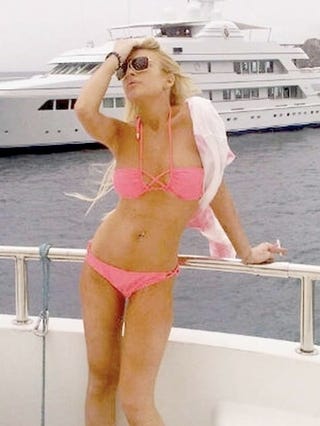 Uber-rich playplace Saint Barthélemy suffers from the unbearable lightness of too much fabulous; Gloria Allred aims at Shaq; Mike Tyson won't be charged for beating a paparazzo; Michelle beats Barack at tennis. New year, new gossip.
A cruel and disobedient God sent a storm to St. Bart's on New Year's Eve, despite Harvey Weinstein specifically instructing him not to, because he and his girlfriend Georgina Chapman were going to be there and needed to party. Sad Russian oligarch Roman Abramovich's fete was ruined because the food and "supplies" (Colombian cocaine? It's not a Russian oligarch party until you take down at least one third-world economy with your luxe demands) were blown off course. Marc Jacobs and his boyfriend came anyway, and Lindsay Lohan managed to tweet ludicrously trashy pictures of herself cavorting with yachts between storms and toting her little sister like a purse dog to parties with Beyoncé and Jessica Alba hubby Cash Warren, to whom LiLo @-tweeted: "St Barths we GO HARD :) LOL." [P6] [Sun] [Twitter]


Other A-list NYE's: Miami got Hayden Panettiere, Jamie Foxx, Jared Leto, and Lady Gaga. Hawaii got Muhammad Ali and John C. Reilly, the latter of whom stars in a candid swimsuit video on TMZ. Clooney was in Mexico and Heidi Klum and Seal were in Aspen. [P6] [TMZ]


Looks like "oversexed sports stars" are Gloria Allred's new thing. First Allred target of 2010: Shaquille O'Neal, whom a model client says is getting stalker-y, again. Shaq's last restraining order came from an Atlanta hip-hop star who said he would "call and breathe heavily into the phone" all the time. Anyway, expect a lot of puns on the word "court" in coming weeks. [Radar]


A rift in the pop culture time-space continuum: Jane Fonda met the "Do the Jane Fonda" rapper! You know, "More junk in her trunk than a Honda/I know you wanna do the Jane Fonda"? [click for an aural refresher] J.Fo tweeted: "Sean Penn brought Mickey Avalon to our xmas party. He sang 'Do the Jane Fonda' and I danced. Fun!!!" Avalon was recently quoted saying the "Jane Fonda" of his song may actually be a sex position. [P6] [CYInterview]


Michelle Obama beat Barack at tennis. Usually he beats her. [Radar]


Elizabeth Edwards finally met her husband's out-of-wedlock child. Though "heartbroken" over John Edwards "second family," the National Enquirer reports Liz has put aside her venomous hatred for Rielle Hunter in the name of sweet-talking that skank to keep her from airing anymore dirty laundry. Also, "all children need their father." Now, can we please marvel how obscenely adorable little Frances Hunter-Edwards is? [fig.1] She looks exactly like her cad of a father, who must've been an obscenely adorable baby, too. [NatlEnq]


AT&T is late on the "dump Tiger" bandwagon, but they've finally dropped something other than a call. (groan) Which network will host Woods' sexting next? (groan 2.0) [NYDN]


Turns out Twilight star Kellan Lutz is a Phish-head, or a Phish-hard, or whatever they call people who take bong rips while bobbing and weaving to infinite jam band riffs, these days. After a recent concert he wore a black wig to try to fool people into thinking it wasn't him, but mostly failed. [P6]


Even though Brooke Mueller is trying to get back together with Charlie Sheen after "one bad night" in which he pulled a knife on her, prosecutors may go after him anyway, thank god. [NYDN]


Mike Tyson is off the hook: L.A. prosecutors are declining to press charges for the time he beat the living daylights out of a paparazzo who "collided with his infant daughter's stroller." Crazy Mike was just trying to protect his family. [NYDN]


A lady who worked at the Playboy Mansion is suing for age discrimination after getting fired at the age of 47. She says she gave Playboy "over ten of the best years of her life," a statement that sort of argues in favor of age discrimination, doesn't it? [TMZ]


Figure 1.