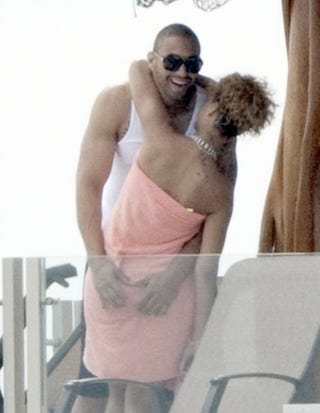 L.A. Dodger Matt Kemp squeezed Rihanna. Who's happier, him or the photographer who shot it? Vince Vaughn gets married. Gaga gets a new look. Jeremy Piven has a lobotomy scar? Tuesday gossip has room for argument.
Rihanna's at a "posh hideaway" in Mexico with L.A. Dodgers outfielder Matt "The Bison" Kemp. As far as bovine nicknames for men go, "The Bison" is superior to "The Yak" but inferior to "Raging Bull." In other news, Rihanna's bikini is adorable. [fig.1] [JustJared]


Professional bachelor Vince Vaughn had a secret wedding on Saturday to 31-year-old real estate agent Karla Weber in the Windy City. Instead of Hollywood's Girl Next Door, Jennifer Aniston, he chose an actual girl next door, from suburban Chicago. [NYDN]


Britney Spears wears mascara and lipstick to the gym. With her new brunette locks fling, Brit did crunches at Hollywood's Mondrian Hotel gym, her sweat smearing her makeup everywhere until "she looked like Heath Ledger as the Joker." A pair of PR flacks kissed her well-toned butt: "You're an inspiration!" Brit "scoffed" back: "Yeah, right." Uh oh, the pop star robot has become self aware. Run while you can. [P6]


Mixed feelings about Lady Gaga's latest hair. [fig.2] When it reminds me of french fries, I like it. When it reminds me of Barbie, feels kinda played. [JustJared]


Joan Rivers joins Ivana Trump as the latest celebrity to get kicked off an airplane. Joan had a fishy passport, which said "Joan Rosenberg AKA Joan Rivers" in the "name" field, an homage to her late husband's last name. [Gatecrasher] l


Did Jeremy Piven get a lobotomy? I don't think they even do those any more, but what's with this huge scar running all around his head? [fig.3] Facelift of the back of the neck? Brain tumor? Apparently Piven had a "scar minimizing procedure," but it's still pretty big. [TMZ]


Susan Boyle's New Year resolution: "I now dream about the perfect man." Gatecrasher says she wants a guy like Simon Cowell, but I always thought Piers Morgan was more her type. [Gatecrasher]


Nice sighting: Brangelina dines at Le Perigord at a table near Alan Greenspan and Andrea Mitchell. You know Brangelina are the type who says 'hi' if they're intellectual celebrities, but not a show biz ones. [P6]


Octomom's OB-GYN has finally been accused of "gross negligence" in the recent birth of octuplets to a patient named only by her initials, N.S. Wow, who ever could that be? Apparently the California medical board is looking into whether the guy should lose his license for not sending her straight to a psychiatrist. [CNN]


Speaking of Angelina knock-offs: Is Megan Fox hiding "suspiciously plumper lips"? [fig.4] It's a difficult angle to judge, but I'm going with "yes." [Celebitchy]


The upcoming season of Celebrity Apprentice is even more depressing than usual: Rod Blagojevich, Darryl Strawberry, and Sinbad, to name a few reasons why. Gold-medal sprinter Michael Johnson is going to be embarrassed by this, and Cyndi Lauper will probably be charmingly earnest. Someone always is. [SunTimes]


Vivid Entertaiment is the king of celebrity-driven porn buzz. Now they say they have a 30-second clip of Tiger Woods doing the nasty with some lady two years ago. Probably fake, but if not? My money's on Jamie Junger. [TMZ]


Lenny Kravitz says he didn't release the MJ-Kravitz duet Another Day. He absolutely did not want the track released, but now that it's out, "I'd like you the fans to be able to hear the track in its entirety." Whatever. If he didn't approve the leak, then he's probably happy it happened, because now he gets to make mad money selling a crappy half-finished track on iTunes. [Popeater]


Figure 1.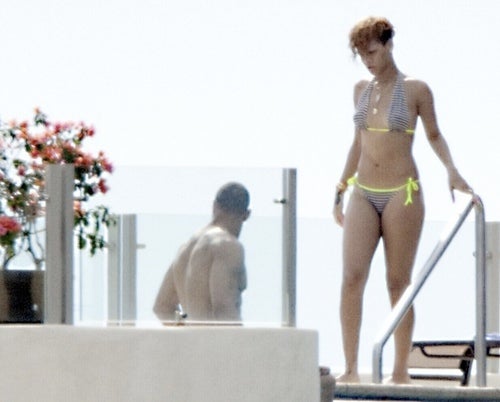 Figure 2.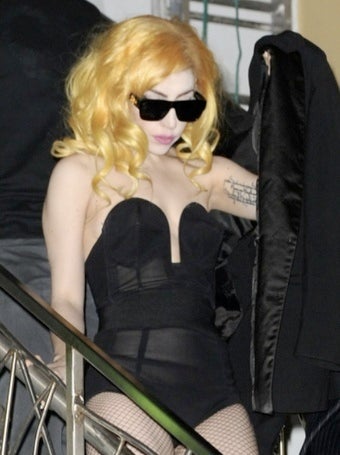 Figure 3.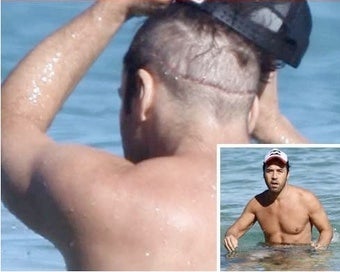 Figure 4.