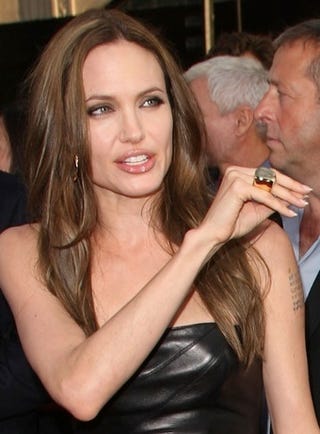 Let's start a bunch of rumors about why she got canned. Diva? Pregnant? Meanwhile, A-Rod ignores Madonna, wedding bells for Prince William, and Kate Gosselin's new extensions hurt her scalp. Tuesday gossip is where we belong.
Angelina Jolie lost her contract with fashion house St. John because she "overshadowed the brand." They'll use model Karen Elson for their next campaign, instead. Let's start some baseless rumors about why they really canned her: Too big a diva to work with, St. John is out of money and can't afford her, Angie's pregnant and too fat for the clothes, Angie's anorexic and too thin for the clothes. In case you're wondering, that photo depicts Jolie's "zip it" face. [NYDN]


Madonna keeps texting A-Rod, but he's too busy playing the field, jumping from "super-toned blonde" to "petite brunette" with abandon. [P6]


Twilight star Ashley Greene is the "always naked" member of the cast. She posed nude for PETA, and now she's got bodypainted ads for iced tea brand SoBe [fig. 1] that will be wedged into the Sports Illustrated swimsuit issue. [HuffPo]


Someone stole $1 million of jewelry from the back of Usher's car. Staggering quantities of precious trinkets need to be transported sometimes, too. [TMZ]


Kate Gosselin's $7000, 20-hour extensions are hurting her scalp. Duh. [NBN second item]


Ben Affleck has some effusive praise for Blake Lively. After she auditioned for The Town, which he is directing, "I just said, 'Look there's no alternative. I don't have a second choice.' ...I didn't quite discover her, but at least I want to say I bought the stock when it wasn't $500 a share." In other news, Blake's Esquire cover turned out pretty good. [fig.2] [JJ]


Simon Cowell and Paula Abdul may reunite on the upcoming American version of The X Factor. "I adore Paula," said Planet Earth's foremost talent show tycoon. [NYDN]


Great excuses of our time: Mark McGwire admitted he was on steroids when he set his home run record, but the roids were only for his health, and as for whether they improved his game: "It never crossed my mind." Sports columnist Mike Lupica is calling his bullshit out. [NYDN]


Prince William will marry Kate Middleton in 2010. Apparently Queen Granny demands that a princess be by his side for her Diamond Jubilee (celebrating 60 years on the throne) in 2012, and Wills has decided to take care of it early. [NBN]


Brittny Gastineau met the brother she never knew she had over the weekend. Killian Marcus Gastineau is the out-of-wedlock child of former Jets star Mark Gastineau and Sylvester Stalone ex and Italian Danish bombshell Brigitte Nielsen. "Brigitte literally said to my mom at Ivana [Trump]'s wedding: 'I have a son who wants to meet his sister,'" Brittny told P6. Who else senses a reality TV pilot coming on? [P6]


Mark Wahlberg's wife Rhea—who is a dead ringer for Brooke Shields—gave birth to Margaret Grace Wahlberg last night. Margaret Grace is the couple's fourth child. [JJ]



Figure 1.


Figure 2.