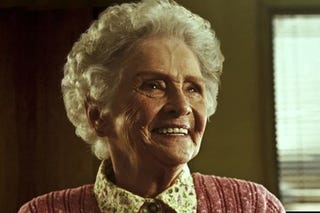 Legion's demon-lady who tries to eat the girl from Friday Night Lights has been the thrust of most of that angels-with-guns flick's previews. Because crazy old ladies put butts in seats, guaranteed! Why, they're one of five cheap trailer ploys.
There are a lot of these preview tricks — awesome explosions, people about to yell swears but then getting cut off, Megan Fox — that marketing folks use to secure an audience based off of two minutes of smashed together footage. But five in particular seem to reign supreme. They are as follows.
Note: Both Sandra Bullock and Dennis Quaid are each in two films mentioned here. What does that say about them? Anything?